Hotel Transactions Expected to Accelerate
---
---
With a number of large assets on the market, the trade of New York hotels is expected to pick up in 2014, according to market participants.
"Some of them won't close by the end of the year but I haven't seen this many large assets on the market in a long time," Justin Magazine, vice president at Savills, told The Commercial Observer.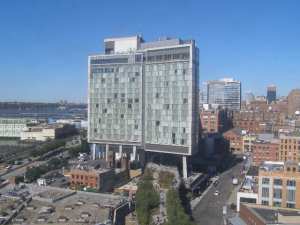 Among the properties currently on the market include the Standard High Line and The London New York. The Blackstone Group, owner of the London, is seeking at least $500 million for its leasehold interest in the hotel, according to previous reports, while Simon Fuller, the producer behind American Idol, is reportedly eyeing the Standard High Line for around $450 million.
André Balazs Properties, the hospitality company behind The Standard, selected Savills Hospitality Group to represent the brand in identifying an investment partner and exploring the sale of High Line hotel. Mr. Magazine declined to comment on the status of the Standard High Line.  
"I can't get into detail on the Standard High Line, but that has been on the market," he said.
Demand is coming from both domestic and offshore investors interesting in buying institutional quality flag assets or bringing new brands to the New York market. The Lower East Side, Lower Manhattan and Nomad are among the markets generating the most interest from potential buyers.
"It's no secret that New York City is the top hotel market in the world in terms of transactions," Mr. Magazine said.
Pricing will be at a premium. The price per key of the rumored Standard High Line sale is around $1.3 million.
"I think you'll see premiums in terms of price per key depending on the asset and if there is a repositioning play involved," Mr. Magazine noted.
Buyers entering the market will have little trouble finding financing, with banks lending up to 75 percent in hotel deals.
"Banks are willing and aggressive in lending to hotel owners in New York," Mr. Magazine said.