Fate of Greenpoint Towers To Be Determined This Week [Updated]
---
---
Long-simmering plans to put up two new high-rise towers along the Greenpoint waterfront should be put to a vote this week, and the project's future mostly lies in the hands of City Council member Stephen Levin.
Mr. Levin, who represents the North Brooklyn neighborhood, must vote in favor of or against a 40-story and 30-story tower by the Council's final meeting of the year on Thursday. The project's developers Joseph Chetrit and David Bistricer hope to win approval for the towers that would soar past the area's current 15-story zoning cap.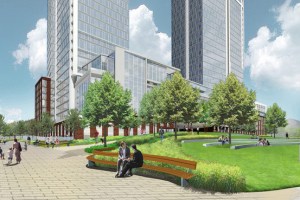 The Wall Street Journal reported yesterday that Mr. Levin's colleagues will likely follow his lead when they vote on the proposed towers at 77 Commercial Street. The high-rises are just north of the 10-building, $2 billion Greenpoint Landing redevelopment, a project that would completely redraw the currently low-lying, industrial character of the the once-scrappy Greenpoint waterfront as the Polish stronghold increasingly resembles hip, sleek Williamsburg to the south.
While some have criticized the scale of the plan, others–including a spokesman for the developers–have  pointed out that the two towers would bring 200 units of affordable housing and a new park to the neighborhood. "The community has made clear that North Brooklyn needs more open space and affordable housing, and we see this as an immediate opportunity for those goals to be achieved," a spokesman for Messrs. Chetrit and Bistricer said in a prepared statement.
Michael Brown, a community organizer, disagreed. "There are developers poised to develop all along the waterfront, and a lot of them are watching," Mr. Brown told the Journal. "We have to make a stand, and we have to say that if you are going to delude and destroy our culture and change the character, you're not going to do it without a fight."
Update: This article has been edited to reflect that the 77 Commercial Street towers are not part of the Greenpoint Landing development, although they are nearby.