East Williamsburg Properties Sell for $14M
---
---
New York real estate aficionados may debate whether East Williamsburg is a "real" neighborhood, but developers see definite potential in the area.
A partnership between Jeff Kurtz of the Kamson Corporation and Dean Marchi of Grand Street Development has acquired 774-784 Grand Street and 213 Maujer Street for $14.2 million. The two properties will be combined into one featuring 63,000 square feet of residential unites and 12,000 square feet of ground-floor retail space.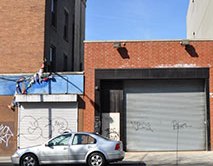 The Wall Street Journal reported on Sunday that Dave Behin of MNS represented the buyer and the family selling the buildings after several years of ownership. The planned mixed-use project will contain 69 rental apartments right by the Grand Street L train station. ""This is just an area that's seen an enormous amount of growth and obviously the L train has been a huge part of that," Mr. Behin told the Journal. "Better retail and restaurants and cafes [are] also drawing people."
Some people argue that the East Williamsburg sobriquet is a recent broker invention and that the neighborhood east of Union Avenue, west of the Newtown Creek, north of Flushing Avenue and south of the Brooklyn Queens Expressway belongs to Bushwick. But the designation dates back to at least 1877, when East Williamsburg was a village within the township of Newtown.
More recently, East Williamsburg lost the venerable 3rd Ward arts space and was the site of a grisly triple murder-suicide targeting the Iranian band Yellow Dogs.