Security "Turf War" at World Trade Center?
---
---
The New York Post reported that a running dispute over who will provide security at the revamped World Trade Center site – the Port Authority of New York & New Jersey or the NYPD – has erupted into a "turf war."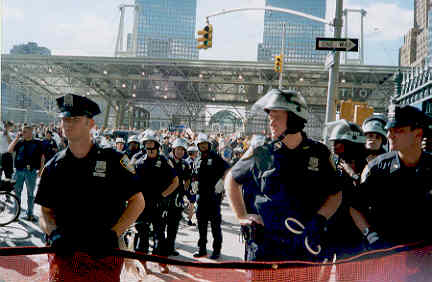 The tiff was most recently on display as "rival" command center vehicles for the respective police departments pulled up outside of the site, with the NYPD snubbing Port Authority requests to roll off, according to the report. 
While one law enforcement source called the rivalry "childish" and another apparently laughed it off as a "playground fight," they suggested that the "higher-ups" are anything but amused.
The report claims that the Port Authority "riled" NYPD officials when it established a guard booth that displayed its logo on or near the site, and that the NYPD in turn "retaliated" Wednesday night by rolling in on a massive mobile command center.
A few hours later, the Port Authority rolled up just a few feet away in its own, similar vehicle. But at $1 million, it is twice as costly as the NYPD vehicle, and apparently quite a bit snazzier.