Mundi Westport Group Renews Lease at 183 Madison Avenue
---
---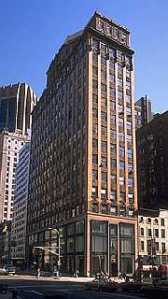 Mundi Westport Group is renewing its lease in Midtown.
The manufacturer and distributor of leather goods for labels such as Mundi, Kenneth Cole, Timberland, Joseph Abboud and Marc New York has added an additional 10 years to its 15,592-square-foot lease at 183 Madison Avenue. 
Joe Grotto Jr. of Cassidy Turley represented Mundi Westport Group in the transaction.
"The success we have had at the building directly relates to the vision and practices of the current ownership and management," said Gerard Nocera of Herald Square Properties, the co-asset manager of 183 Madison Avenue. "IRSA's buildings are maintained at the highest standards and tenants respond accordingly, as do their representatives."
IRSA acquired the remaining shares from minority partner Rigby Asset Management earlier this year. The acquisition comes two years after their initial investment in the building, which included a slew of capital improvements to boost its occupancy rate that hovered around 50 percent in 2011.
The improvements included a multi-million dollar renovation of its lobby, bathroom, facade, common areas, and a new concierge desk.
"Ownership had a real vision," said Mr. Nocera, speaking of an earlier deal. "They realized that Madison Avenue and 34th Street was a beachfront location. And the bones are tremendous."
Nearly two years later, Mr. Gocera has worked with Cushman & Wakefield's Harry Blair, Sean Kearns and Myles Fennon to fill about 130,000-square-feet. Several new tenants have been brought to the building, including Puig which signed for a ten-year 7,240-square-feet lease and the Spector Group which took its headquarters into a 13,000-square-foot office.
The building is now 100 percent occupied.