Midtown West Ties Times Square for Lowest Availability In Manhattan
---
---
The Midtown West/Columbus Circle submarket has been in the headlines a lot lately.
The area has had good news and some not so good news, like the legal issues over the sale of Worldwide Plaza and the likelihood of Time Warner leaving Columbus Circle for Hudson Yards. But let's focus on the good news this week.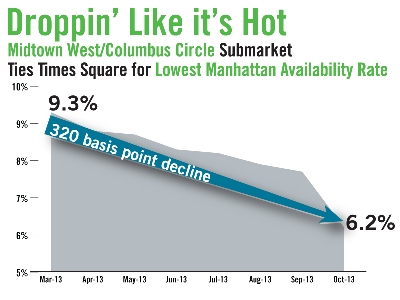 Since the first quarter, the availability rate in Midtown West/Columbus Circle decreased by a dramatic 320 basis points, tying it with Times Square for the lowest rate in all of Manhattan at 6.2 percent. A shift has occurred in the last six months—back in March, Midtown South had the two submarkets with the lowest availability rate, but the west side of Midtown can now make that claim.
Much of the significant drop in availability can be attributed to Warner Music Group's 288,250-square-foot lease at 1633 Broadway. Additionally, another music giant, Universal Music Group, inked a long-term extension at 1755 Broadway on its 242,505-square-foot space. Based on last week's news, there are also two more big tenants set to sign leases in this submarket: Al Jazeera America and Kasowitz Benson Torres & Friedman. Midtown West/Columbus Circle is also going to get the first new office building in Midtown since 2010 with 250 West 55th Street opening for tenant occupancy.
In addition to a drop in availability, overall asking rents have also increased by 9.8 percent from the first quarter to $67.10 per square foot. Considering Midtown West/Columbus Circle's proximity to some of the most expensive submarkets in Manhattan, the average rents in this area can be considered a major value option for many Midtown tenants.
1633 Broadway
,
250 West 55th Street
,
Al Jazeera
,
Cassidy Turley
,
Columbus Circle
,
Kasowitz Benson Torres & Friedman
,
midtown west
,
Richard Persichetti
,
Times Square
,
Universal Music Group
,
Warner Music Group