Manhattan Office Investment Market Up 42.6% Since Early 2012
---
---
The Manhattan office investment market is booming.
With $14 billion in office investment sales volume already recorded this year, the market is slightly below 2012's total of $14.4 billion. There is also another $4 billion under contract, which is expected to close over the next two months. This additional pending activity will not only surpass 2012 totals, but it is likely to approach 2011 levels when $20 billion was traded.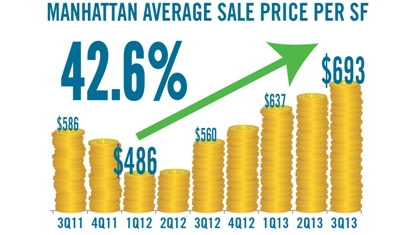 So with this year's investment volume set to possibly leapfrog the last two years, how does the market stack up on an average price per square foot basis? At $646, today's Manhattan average price per square foot is 21.6 percent higher than the 2012 average. In fact, over the last six quarters, the average has been steadily climbing, up 42.6 percent since bottoming out at the end of the first quarter 2012.
Midtown office properties led the way with a $723 per square foot average, as just under $11.5 billion has been traded this year. Class A buildings averaged $735 per square foot this year, while Class B and Class C combined averaged $653 per square foot. The highlight deal of the third quarter was the sale of 650 Madison Avenue for more than $2,100 per square foot. A joint venture between Crown Acquisitions, Inc., Oxford Properties and Vornado Realty Trust paid a total of $1.295 billion for the 600,000-square-foot office tower.
In Midtown South, no Class A properties have sold this year, which is not a surprise since less than 30 percent of the inventory is considered Class A. In 2013, 42 office buildings sold for a total of $1.7 billion, with a $457 per square foot average.
Downtown office properties have traded at an average of $423 per square foot and totaled $854 million in 2013. The total volume traded is likely to double by the end of the year, as 1 Chase Manhattan Plaza went to contract for $725 million.