Little Cupcake Bakeshop Bites Into Prospect Heights Lease
---
---
Little Cupcake Bakeshop signed a 15-year, 2,200-square-foot lease at 598 Vanderbilt Avenue in Prospect Heights and not far from the growing constellation of dining options around the Barclays Center.
It's the third outpost of the bakery, which debuted eight years ago in Bay Ridge and in 2010 expanded to Nolita. Asking rent was $150 per square foot. The store is split between a 1,000-square-foot basement and 1,200-square-foot ground floor.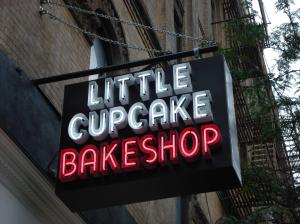 Crain's reported that co-owners Massimo LoBuglio and his three brothers negotiated directly with the landlord, Peter Costabile, and that no brokers were involved in the transaction. "Both of our current shops are in places that have a strong sense of community," Mr. LoBuglio told Crain's. "We felt Prospect Heights had a very similar feel and that drew us in."
That may be true, but the Prospect Heights community has seen an explosion of outside visitors since Barclays Center opened late last year. Accordingly, rents in the surrounding area have spiked, with retail rents often doubling to $150 per square foot and high-traffic corner spots fetching as much as $260 per square foot. Duke of Montrose, Shake Shack and Gorilla Coffee are just a few of the food and drink retailers to open in the lead-up to or aftermath of the sports and entertainment arena's debut in the neighborhood.
Little Cupcake Bakeshop, which trumpets the sustainable design of both its sweets and its stores, will replace Pena's Food Market when it opens in early spring.