Calvary Hospital Joins Hutchison Metro Center
---
---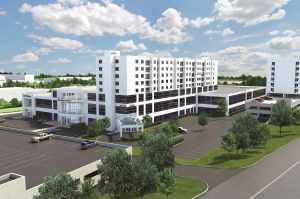 Simone Healthcare Development Group has signed a deal with Calvary Hospital, which will now occupy space at the Hutchinson Metro Center in Pelham. 
The only fully accredited acute care specialty hospital that provides palliative care for adult advanced cancer patients in the United States will take 8,000 square feet of office space at the complex. The office will house administrative offices for its 225-bed hospital at 1740 Eastchester Road. 
In addition to the signing, the 32-acre building complex has attracted large tenants over the past year, including Montefiore Medical Center, which is set to take the entire 11-story, 280,000-square-foot second tower of the development. Simone Development broke ground in May and aims to complete the superstructure by the third quarter of 2014. Montefiore's lease spans 16 years and contains provisions for either a renewal or purchase of the tower.
"Metro Center Atrium is already 60 percent pre-leased and has already attracted national-level companies like Marriott and LA Fitness, and we expect that this project will continue to draw high-caliber office, medical and retail users," said James MacDonald, vice president of leasing for Hutchinson Metro Center, in a prepared statement.
The group has added several tenants to its roster in addition to Montefiore Medical Center and Calvary Hospital, including LA Fitness, Fresenius Medical Care North America and Hangar Prosthetics, among others. Approximately 148,000 square feet of space remains available for lease.
"Simone Development's ongoing expansion of Hutchinson Metro Center provides medical and business tenants with flexibility for their future plans because we can readily accommodate their growth needs within the Simone Development portfolio," Mr. MacDonald added.
Simone Development's director of leasing Josh Gopan brokered the transaction.