Unique Fifth Avenue Retail Space Is on the Market
---
---
An unusual small floor-plate building on an evolving stretch of Fifth Avenue is on the market.
The retail space at 585 Fifth Avenue features 6,100 square feet of retail space spread out between the lower-level, ground, second and third floors. Joseph Isa and Brian Tregerman of Winick Realty Group are marketing the property on Fifth Avenue between 47th and 48th Streets.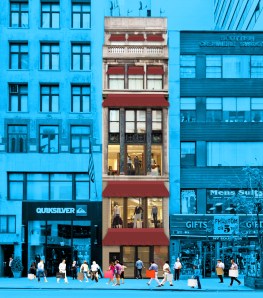 "Most of the retail availabilities on Fifth Avenue have floor plates that are upwards of 4,000 square feet," Mr. Tregerman said in a prepared statement. "If you are a small retailer who wants a 1,500-square-foot floor plate, this is the only opportunity in the market."
Traditionally the redheaded stepchild of upscale Fifth Avenue between 49th and 59th Streets, the lower portion of the fabled corridor has recently welcomed major retailers including Joe Fresh and Tommy Bahama. Most importantly, H&M signed a 57,000-square-foot lease at 589 Fifth Avenue (near 48th Street) last fall.
To wit, Winick noted that 585 Fifth Avenue has had a souvenir shop as its tenant for the past 40 years.  Brokers also stressed the the possibility of branding the entire six story building.
"This segment of Fifth Avenue in the mid-40s is currently experiencing a retail revival," Mr. Tregerman said. "The ideal tenant for this space will help to create a more consistently high-class retail experience connecting lower and upper Fifth Avenue."