The Tech Whisperer: ABS Partners' Ashkán Zandieh
---
---
Before he got involved with a nascent industry on the upswing, Ashkán Zandieh gave a boost to a business in its death throes.
Mr. Zandieh, 30, worked for Universal Republic, at the time an imprint of the giant Universal Music Group label. His role in a band while an undergraduate at Hofstra sparked his interest in the music biz even as digital piracy upended it.
"I went to school full-time and worked at Universal full-time," Mr. Zandieh said in an interview outside of a Williamsburg coffee shop. "I didn't sleep a lot."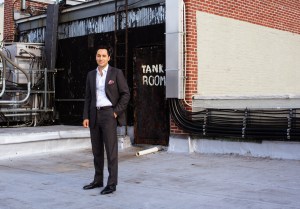 Late nights paid off. The Web start-up that Mr. Zandieh ran was acquired 18 months after inception by a label looking to streamline the tour management process. (He said he was legally prohibited from mentioning the site's name.) Before long, Mr. Zandieh applied the tech chops he honed in the music world and as an entrepreneur to real estate, an industry that had beckoned since his youth in Glen Cove. His father, Mohsen Zandieh, served as president of the Long Island Board of Realtors.
"When I worked for Universal Republic, I helped run its street team," Mr. Zandieh said. "We did a lot of guerilla promotion. That mentality was always ingrained in us. And I applied it to my father's 2007 campaign."
That campaign roughly coincided with the elder Mr. Zandieh's residential building purchases in Greenpoint and Queens and the son's growing involvement in real estate. Ashkán employed social media to reach out to the family's residents ("I never call them tenants") and put a personal, if not quite human, face on their landlord. From there, he earned a MBA at Boston's Suffolk University and a master's degree in real estate from New York University, where he was nurtured by Matt Duthie of Jones Lang LaSalle.
"He really put things in perspective for me," Mr. Zandieh said. "He told me that I should really find my voice in the industry, which usually takes six to 12 months."
That vocalization quickly grounded itself in the technology real estate sector, which Mr. Zandieh read about in a growing cascade of articles about Microsoft, Google, Facebook and Midtown South, the broadly defined submarket toward which these tenants gravitated.
"A lot of the tenants were complaining that their brokers sucked," Mr. Zandieh said. "So I took the residential side's compassion for the tenant to start-ups pulling themselves up by their bootstraps."
Mr. Zandieh's route to ABS Partners Real Estate, which he joined in 2012 and where he now produces quarterly TechStarters market reports, was somewhat serendipitous. "Matt told me to check out ABS," he said. "And that night, I went on the NYU job board, and the firm had a listing up."
Timing played a part in Mr. Zandieh landing the job, but it turned out to be an ideal fit for an Internet success story wary of the constraints of a button-down corporate overlord.
"One thing that all entrepreneurs and start-up CEOs will tell you is that once you build you're first start-up, you're practically unhirable by another company," Mr. Zandieh said. "It's tough once you've squeezed the berries and tasted the juice of doing your own thing. My success at ABS is really thanks to one person, Jay Caseley, who brought me onboard and gave me free reign. Most companies take you, mold you and control you."