The MET Gains Rights to Charge Admission with Lease Amendment
---
---
The Metropolitan Museum of Art has amended its lease with the city, allowing the museum to legally charge an admission fee.
The MET said the new amendment confirms and continues the 42-year-long agreement under which the museum and the city first established, and since maintained, a discretionary admission policy.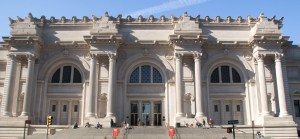 The move comes on the heels of two lawsuits against the MET that said the museum misled visitors into paying admission, noting that it had no legal authority to do so under its original 1878 lease.
Now, with the city's approval, the MET will be able to charge a suggested fee, or even a mandatory one, and it may charge extra for special exhibitions, group tours and other programs.
"Faced with perennial uncertainties about future funding sources, the Met and the city concluded that it makes sense now to consecrate our longstanding and wholly legal admissions policies," Thomas Campbell, the museum's director, said in a statement.
"When the policy was first introduced, the Met was a 750,000-foot-square museum attracting a million visitors a year. The building is now more than twice the size and commensurately more expensive to maintain and secure for its more than six million annual visitors," he added.
Still, critics characterized the new lease as a ploy to defeat the pending lawsuits.
"The museum's effort to arrange a lease amendment, in the dead of night, without notice to the public and without regard to the democratic process, is nothing but a desperate stunt by the museum to defeat claims its lawyers must know are valid," Lawyer Michael Hiller, who filed one the lawsuits, told the Daily News.
A MET spokesperson stressed that the city initiated the amendment.
"We did not seek this change… the city presented to us (and other museums) to codify policies that have been in force for 40-plus years," he wrote in an email.