The Future Sees 11.7 Million Square Feet Of Space at World Trade Center
---
---
In January, I took us on a trip to New York City 100 years ago. This week, we're going to hop back into the DeLorean, but we'll jump ahead five years, to October 15, 2018, and head down to Lower Manhattan.
Standing in the middle of what was once known as the World Trade Center Development site, I see a thriving office community made up of workers from a multitude of industries. New York City and federal government, media and financial firms lead the mix of the employment base in this office complex. Yes, the financial-services industry is finally back in full force in 2018.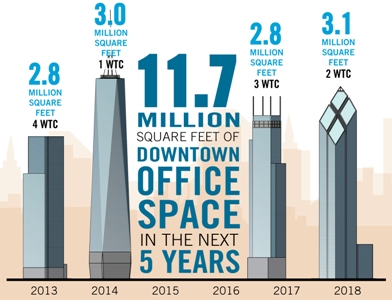 Looking around, I see the World Trade Center, buildings One through Four, open for tenant occupancy, adding 11.7 million square feet of office space to the Downtown inventory since 2013. That large addition was tempered because about half of that amount, from Class B and C buildings, were converted to residential space in the same period.
The 3.1-million-square-foot 2 World Trade Center was the most recent to open. Four World Trade Center has been open for almost five years and its 2.8 million square feet is finally fully leased. Also fully leased is 1 World Trade Center, which opened a few months after Tower Four in 2014; the 3-million-square-foot tower is now the definition of the Downtown skyline. Three World Trade Center opened last year, in 2017. I will never know why these buildings were not built in number order.
There is also the Fulton Street Transit Center and Calatrava PATH Station that have been fully operational for four and three years, respectively. And don't forget the 550,000 square feet of retail space that started opening up in late 2014.
Back in present day, I can tell you that the future looks bright for Downtown as the World Trade Center takes shape over the next five years. Do not worry – I did not do anything while I was time traveling to upset the space-time continuum … at least nothing that I know of.