Tarte Cosmetics Inks 15K at 1375 Broadway
---
---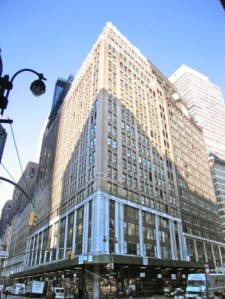 Tarte Cosmetics will be moving its New York headquarters
Growing out its office at 224 West 35th Street, Tarte Cosmetics has signed a 15,439-square-foot space on the eighth floor of Savanna's 1375 Broadway.
Robert Kaplan of Hidrock Realty represented Tarte Cosmetics in the transaction. Savanna was represented by a brokerage team from Colliers International comprised of Eric Meyer, Martin Meyer, and Michael Thomas.
Cooper Kramer, vice president of Savanna, attributes the deal to the building's repositioning and capital improvements program.
"Savanna has recently completed major repositioning at 1375 Broadway," Mr. Kramer explained. "Savanna focused on enhancing the tenant experience, with a modern entrance leading into an open, bright renovated lobby."
"Savanna [also] re-clad the entire storefront system for the retail tenants on Broadway and the corner of 37th Street to create a cohesive modern aesthetic that has transformed the streetscape of 1375 Broadway," he further added.
Leasing activity in the building has been extremely strong, especially among media, technology, health and beauty, and professional service tenants, Mr. Kramer noted. In total, the firm leased over 110,000-square-feet since the building was acquired in 2010.
Approximately 60,000-square-feet of the 500,000-square-feet of the building remain available spanning three floors – two at 22,000-square-feet and a third at 15,000-square-feet.
Dropping out of her psychology doctorate program at Columbia University, Maureen Kelly founded Tarte Cosmetics from her one-bedroom apartment in the East Village. Her vision, supported by credit cards and family contribution, was to redefine make up and focus on pure ingredients. Her color line – marketed as cruelty-free and eco-chic beauty line – was picked up by Henri Bendel and Sephora, among others and skyrocketed sales and demand. 
1375 broadway
,
cooper kramer
,
Eric Meyer
,
Heri Bendel
,
Hidrock Realty
,
Lease Beat
,
Martin Meyer
,
Maureen Kelly
,
Michael Thomas
,
Robert Kaplan
,
Savanna
,
Sephora
,
Tarte Cosmetics