Taconic's Paul Pariser and Kevin Davis: Lower East Side State of Mind
---
---
Sixteen years after its founding, Taconic Investment Partners is banking on its legacy. Last month, the city chose a proposal from Taconic and collaborators (including L&M Development Partners, BFC Partners, SHoP and Beyer Blinder Belle) to reimagine the Seward Park Urban Renewal Area, Manhattan's largest swath of undeveloped land below 96th Street. The estimated $1.1 billion project on the Lower East Side near the foot of the Williamsburg Bridge will add 1.6 million square feet of commercial and residential space to a neighborhood neglected for nearly half a century.
Last week, The Commercial Observer spoke to Taconic Co-Chief Executive Officer Paul Pariser and Chief Investment Officer Kevin Davis in the firm's office at 111 Eighth Avenue—Taconic sold the building to Google in 2010—about Essex Crossing at SPURA, the Meatpacking District and the company's possible reinvestment in the Financial District.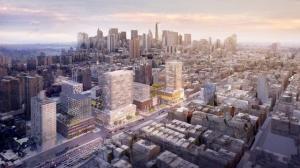 Our Lower Manhattan issue comes out shortly before the first anniversary of Superstorm Sandy. It's a question a lot of people are tired of answering, but how do you judge the comeback—especially of the Financial District—one year later? 
Kevin Davis: I think given the impact of the storm and severity, the city and landlords did a good job getting the buildings back online. Obviously, if you're a tenant, you might feel differently. But it was unforeseen, and no one had really dealt with that before. It's definitely changed the sentiment downtown. People are focused on whether or not a building was impacted.
Paul Pariser: Through the process, there were some buildings that were so banged up that they'll be going through a change of uses. But the city's very resilient. It will be a tough thing now to meet the new code. That's the question. And old buildings don't. We're building one in the zone now, and we've changed our plans to meet the most stringent requirements.
The Meatpacking District, where Taconic has a major presence, didn't suffer quite as heavily as the Financial District or the Rockaways. But there was damage. Following that, what phase of its dramatic transformation do you think the Meatpacking District is in? 
PP: We're really in a metamorphosis. It may not be as evident as it was seven years ago when it was turned from meat hanging on the streets to whatever. And we're very involved, from 837 Washington Street to the local Business Improvement District organization. It was an outpost, cool and chic. It's less empty now, and there are many more places. And that includes national brands. There's both good and bad to that. The visionaries of the district are very much trying to bring in top-tier retail tenants. Those tenants might not be the chicest. But the younger brands of those tenants that appeal to the younger set. For example, LVMH and Michael Kors subsidiaries, which appeal to younger people.
The office market has also evolved. It's fantastic, although there's very little space. There's no space here, the Chelsea Market or 85 10th Avenue. There's no end in sight in terms of demand. We have three or four floors under negotiation in our new building right now.
And what's the status of 837 Washington Street in terms of a tenant or tenants? 
PP: I don't know yet. It could be an entire user. We're talking to two tenants who are full-building users. I can't handicap whether we'll make those or break up the building, which we easily could do—three or four office tenants and one or two retailers.
Are these prospective office users in line with the tech and media tenants who've moved to the area?
PP: One is a major tech company, one is a major financial investor, and another is from the garment or fashion world. What's changing the game again is the [Meatpacking District's] Whitney Museum opening. That will bring a different clientele, a sophisticated clientele. Most of the Whitney crowd probably won't go to the Standard Biergarten. And there'll be some gorgeous restaurants that will open at the Whitney as well, very high-end.
Congratulations on the city selecting your team's Essex Crossing proposal for the SPURA project. Could that area be the next Meatpacking District? 
PP: It's probably going to be different. It's physically different and surrounded by many neighborhoods. And it's a cultural melting pot with Chinatown, Little Italy, the historic Jewish districts. You have a younger population. The housing stock will be less expensive, somewhat, compared to West Chelsea.
In terms of its funk and interesting architecture, we're going to make it very interesting. It won't be glitzy or glassy or shiny. It's going to be cool. But we're putting in such density that it's an opportunity to really create a statement for that part of town.
There seemed to be little community backlash to the redevelopment compared to, say, Atlantic Yards. Could you describe the process a bit? 
KD: The whole process was vetted by the Bloomberg administration with the local community constituents. It sort of had the community's blessing before it went to developers.
PP: And I think there were nine competitors. I wish I could see all the presentations. But we basically took the city seriously and kept it economical. And we were clever in putting the vision altogether by linking these buildings. By the end of the day, we were left standing. And that will make us either very, very smart or very stupid.  But I suspect very smart.
KD: It was a highly efficient process.
PP: Very condensed. There were four to six months of negotiating around the clock through the summer—boom boom boom! It was remarkable. I think it's another notch in our outgoing mayor's belt. I think, when we look back 15 years from now about the city under Bloomberg, we'll look at Hudson Yards, establishing the Second Avenue subway line, the 7 line.
KD: The Cornell tech campus.
PP: Smoking, parks. You don't have to like everything, but the amount of transformation that happened … and we were the lucky winners of maybe one of his final projects that will be terrific for the city.