Sunshine by the Square Foot
---
---
While it did not rival what some recalled as a "blistering" second quarter, the Manhattan commercial real estate office market continued to gain momentum in the third quarter, and most real estate observers took the growth as a sign of more to come.
Positive absorption and rising rents throughout Manhattan are on track to rain in a strong end to the year, as Midtown remained steady, Midtown South shined, and Downtown turned heads.
"Things are looking good, and it's not just in Midtown South, which is what we were seeing for almost two years," said Richard Persichetti, vice president of research with Cassidy Turley. "There's lots of demand throughout the entire office market."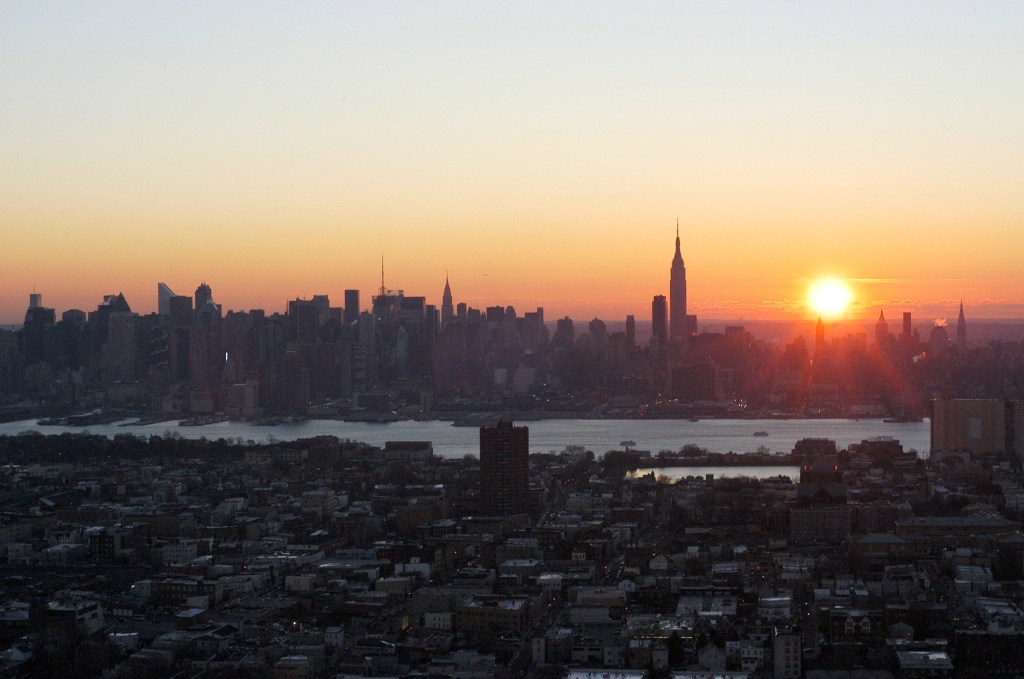 Manhattan recorded 1.3 million square feet of absorption during the quarter, bringing the 2013 total to 1.9 million square feet, according to data from Cassidy Turley, as newfound optimism that began in the second quarter permeates throughout the market.
It was particularly evident in the continued demand for big blocks of space, most recently highlighted with Capital One (COF)'s long-term lease for 250,000 square feet across eight mid-rise floors and ground-level retail space at 299 Park Avenue.
Among other big deals of the quarter, West Elm took at least 120,000 square feet at 55 Water Street, ING took 144,000 square feet at 230 Park Avenue, Baker Botts took 104,000 square feet at 30 Rock, and Port Authority of New York & New Jersey took 118,000 square feet at 115 Broadway.
The string of big leases brought the number of large available spaces, with 100,000 square feet of contiguous space or more, down to 68, from 83 in the first quarter, the Cassidy Turley data shows.
"The economy has kind of gotten its legs behind it, and companies are a little bit more confident of signing this space and looking out into the future," Mr. Persichetti said. "They're starting to feel good about their situations."
As the economy improves, with the European debt crises now in hindsight and the United States's imminent military intervention in Syria seemingly off the table, at least for now, the city is still viewed as a safe haven for investors.
Recent large office building sales reflect increased investor hunger for safe, long-term bets, amid a post-recession environment characterized by lower commercial mortgage delinquencies, higher confidence and streaming lines of credit.
There were 16 investment sales of more than $400 million so far this year, which is the greatest number recorded since 2007, Cushman & Wakefield (CWK) data shows.
With the impending sale of 650 Madison Avenue and 200 Lafayette Street, the average third quarter sales price was $945 per square foot, which brings the 2013 year-to-date average price to $911 per square foot, according to data from Collier's International. That's above the peak levels reached in the prerecession years of 2007 and 2008, when the range was between $777 and $842 per square foot.
Perhaps no other occurrence represented the push among real estate's elite to grab high-profile assets than the mad scramble to buy the Empire State Building, which played out through the quarter but ultimately failed and led to the launch of the "ESRT" REIT last week.
Meanwhile, owners are confident to raise rents, and average asking rents continued to climb in the quarter. Class B is still outpacing Class A, however. Class B average asking rents jumped another $2.50 per square foot to $53.28, while Class A rents increased just $0.68 to $69.97 per square foot, according to Cassidy Turley.
200 Lafayette Street
,
230 Park Avenue
,
299 Park Avenue
,
30 Rock
,
51 Astor Place
,
55 Water Street
,
650 Madison Avenue
,
Alan Schmerzler
,
Baker Botts
,
Brookfield Place
,
Burberry
,
Cassidy Turley
,
commercial real estate
,
Empire State Building
,
Ferragamo
,
Hermes
,
ING
,
Investment Sales
,
Joe Harbert
,
Ken McCarthy
,
Michael Kors
,
New york city
,
REITs
,
Richard Persichetti
,
Steven Kohn
,
third quarter
,
West Elm
,
Capital One
,
Colliers
,
Cushman & Wakefield
,
Empire State Realty Trust