Stephen Meringoff, Himmel + Meringoff
---
---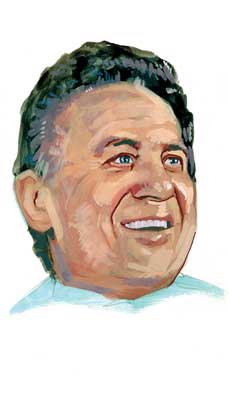 Favorite charity? 
Pencil. They form meaningful partnerships with New York City public school principals to improve public education and give paying summer jobs to high school students.
Real estate prediction for 2014? 
Rising costs of borrowing. Flat office lease rents with certain areas like Third Avenue and lower Fifth Avenue having a slight rise and others like Sixth Avenue and Times Square going down a little. Increasing sales prices in Manhattan office buildings.
Where in New York is there still untapped potential for real estate development? 
The boroughs and Second Avenue.
Who will become New York City's next mayor?  
The candidate who gets the most votes.
What real estate policy should New York's next mayor make a priority?   
Improve the traffic!
What qualities do you look for in an agent representing your buildings? 
Integrity.
What is one aspect of your business you wish you had more time for? 
N/A.
Greatest fear: 
A bad visit to the doctor.
If approved, the Midtown East rezoning initiative will: 
Allow Midtown East to develop buildings that can compete effectively in the 21st century.
In the film version of your life, which actor would portray you? 
James Caan.
Foreign real estate market you'd most like to invest in: 
N/A.
Is broadband connectivity in New York City a priority at your buildings? 
Of course.
What should happen with Madison Square Garden and Penn Station? 
N/A.
What New York City building should be torn down? 
Port Authority Bus Terminal.