State Probing $10 Sale of World Trade Center Name
---
---
New York Attorney General Eric Schneiderman is reportedly leading an investigation into the 1986 sale of the rights to the World Trade Center name for just $10.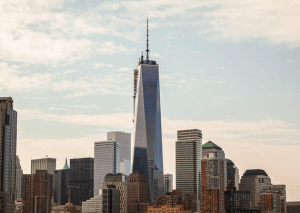 The Port Authority of New York and New Jersey sold the naming rights to outgoing executive Guy Tozzoli for use by his nonprofit World Trade Centers Association, which according to the Associated Press reaped millions in fees for use of the name in 28 states. The Port Authority, which owns the World Trade Center site in New York City, is among hundreds of entities worldwide paying to use the name.
"The attorney general is looking to find out how the WTCA got such a sweetheart deal on the naming rights, how much revenue the WTCA makes selling the name and how that price is set," an official told the AP.
The official said letters carrying an October 25 deadline would arrive this week at 45 World Trade Center complexes throughout the country, from Alaska to Florida, demanding details on the agreements the entities made with WTCA at the time, including the start and end dates of any agreement, fees paid, the names of principals involved and the terms of license agreements.
A spokesman for the WTCA defended the agreement, stating that the rights to the name were acquired legally.
"The WTCA lawfully obtained all rights to the World Trade Center trademark in 1986 in an agreement reached between the WTCA and the Port Authority," spokesman Eric Dahl told the AP. "This agreement has been honored by both parties for nearly three decades with the knowledge and participation of the governing bodies of both organizations and was re-approved by the Port Authority as recently as 2006."
New York Governor Andrew Cuomo referred the case to Mr. Schneiderman on Sept. 17, according to the report.
"Using the millions of dollars in annual revenue from licensing fees paid by companies around the globe for the use of the World Trade Center brand, Mr. Tozzoli received exorbitant annual compensation," Mr. Cuomo said.
Mr. Tozzoli, of WTCA, died in February.