South Street Seaport Breaks Ground
---
---
The Howard Hughes Corporation launched the redevelopment of the South Street Seaport today with a groundbreaking ceremony for the Pier 17 building.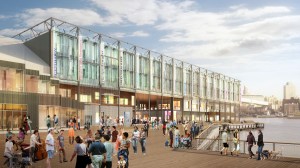 The $200 million project will yield 365,000 square feet of retail space — a mix of shops, dining and entertainment options — highlighted by a one and a half-acre rooftop and what the developer said will be a world-class restaurant, two outdoor bars and an amphitheater with a 4,000-person capacity.
"The redeveloped Seaport will create an unrivaled destination that will become the most vibrant in Lower Manhattan," said David Weinreb, CEO of The Howard Hughes, at the event, calling it "a place where exceptional retail, world class dining and engaging cultural events blend seamlessly against the city's most captivating waterfront backdrop—the Brooklyn Bridge."
In March, the Dallas-based developer received unanimous approval from the New York City Council to redevelop the Seaport. Designed by SHoP Architects, it will feature a glass façade with stores, restaurants and neighborhood shops, with views of the New York Harbor, Statue of Liberty, Brooklyn and Lower Manhattan.
"I'm happy to say that the best days are still to come for the Seaport and that the future really does start right here, today," Mayor Michael Bloomberg said at the event.
It is expected to open in the first quarter of 2016 and its construction will generate an estimated $260 million or more in total economic output and produce more than 1,000 jobs, with a subsequent $193 million in annual output.
Gus Delaporte contributed reporting