Related Taps Artist Thomas Heatherwork for Hudson Yards Centerpiece
---
---
Related Companies' Stephen Ross has reportedly selected British artist and designer Thomas Heatherwick to create the artistic center piece for the new public space at Hudson Yards.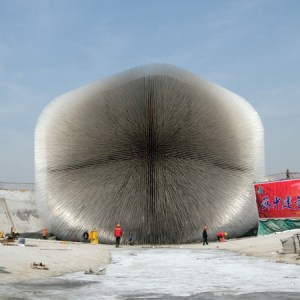 Mr. Heatherwick, know for the Olympic cauldron at the 2012 London Games, will team with landscape architect Thomas Woltz to design the four-acre space with a large-scale artwork – a project that, according to the Wall Street Journal, which first reported the agreement, will reportedly cost Mr. Ross upwards of $75 million, making it one of the most expensive pieces of public art in the world.
"This is a once-in-a-lifetime opportunity to integrate a new kind of public space into the fabric of the city and to add another layer to New York's rich cultural heritage," Mr. Heatherwick said in a statement.
Sources told the publication that the space could draw inspiration from the Rockefeller Center or Michelangelo's Piazza del Campidoglio in Rome, exploring a theme of "gathering," and that Mr. Ross personally solicited ideas from artists Jeff Koons, Anish Kapoor, Maya Lin and Richard Serra.
Incidentally, Edward Minskoff recently tapped Mr. Koons to create the centerpiece at 51 Astor Place in a 14-foot candy-apple-red balloon rabbit, what Mr. Minskoff told The Commercial Observer was "probably going to be one of the most iconic sculptures that Jeff Koons has ever done in his career."
Mr. Heatherwick's projects include a pedestrian bridge that curls up when not in use, London's new double-decker bus and a sea urchin-like pavilion at the 2010 Shanghai World Expo.
Mr. Woltz's current endeavors include projects at Memorial Park in Houston, Devonian Botanic Garden in Alberta, Canada and Cornwall Park in Auckland, New Zealand. 
2012 London Games
,
51 Astor Place
,
Anish Kapoor
,
Cornwall Park
,
Devonian Botanic Garden
,
Edward Minskoff
,
Hudson Yards
,
Jeff Koons
,
Maya Lin
,
Memorial Park
,
Michelangelo
,
Piazza del Campidoglio
,
Related Companies
,
Richard Serra
,
Rockefeller Center
,
Stephen Ross
,
Thomas Heatherwick
,
Thomas Woltz