Midtown South: Hitting the Ceiling
---
---
"I'll be honest with you," Gregg Weisser said. "It caught me by surprise."
Mr. Weisser, the senior vice president and director of commercial real estate at the Moinian Group, was discussing the dramatic rise of Midtown South as a real estate, tech, media and fashion powerhouse. But he likens the fast-paced big-city success story to a leisurely drive upstate. 
"It's like when you're up in the country, driving in your car with your wife," Mr. Weisser said. "It's the middle of October. All of a sudden the trees are yellow and red and—holy shit!—it's fall! It's like 10 minutes ago, you were swimming in the Atlantic, and you turn around to autumn. No one can figure out what the hell happened."
Returning to Midtown South, a confederacy of disparate neighborhoods that he defines as 31st Street south to Canal Street from river to river, Mr. Weisser said, "It was always there. But it wasn't until there was some critical mass achieved that it took off. I don't want to say it was Google at 111 Eighth Avenue [that started the boom]; it was before that."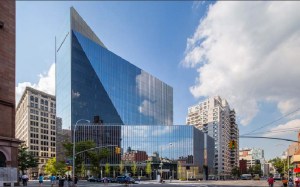 Whether the current Midtown South gold rush began with the dot-com Silicon Alley days or L&L Holding Company's 2007 purchase and subsequent turnaround of 200 Fifth Avenue or Google's 2010 acquisition of 111 Eighth Avenue, the submarket has arguably been this decade's defining New York real estate fairy tale. But as rents for top-notch properties in the district approach Midtown levels, some real estate professionals admit the ceiling has been reached and that the sort of tenants that turned the area around are seeking affordable shelter elsewhere.  
At the moment, time is on the submarket's side. Various third-quarter reports had Midtown South making different sorts of history. Cushman & Wakefield noted that average asking rents ($60.34 per square foot) in the submarket exceeded $60 for the first time on record. Richard Persichetti, the vice president of research, marketing and consulting at Cassidy Turley, said that average asking rents for Class B properties alone passed that benchmark for the first time. Overall, Cassidy Turley reported that asking rents rose $3.60 in the third quarter, to $62.92 per square foot.
Perhaps most impressively, Mr. Persichetti's analysis found that just over 35 percent of Midtown South buildings were fully leased, easily dwarfing the figure in Midtown (23 percent) and lower Manhattan (25 percent). Of course, the area between 34th and Canal Streets is low-lying compared to its skyscraping bookends, but the submarket remained tight. Still, Cassidy Turley did find a very slight uptick—of 40 basis points, to 8.7 percent—in availability throughout Midtown South last quarter. A certain East Village building's addition of 363,000 feet to the marketplace is largely to thank for that. 
"A lot of it had to do with 51 Astor Place," Mr. Persichetti said. "All that space hitting the market kept absorption slightly negative. I don't think there's a reverse trend going. There won't be a slew of vacancies." 
Colliers's contribution to the third-quarter literature noted a slight decrease in Midtown South availability, to 9.1 percent from 9.2 percent. Midtown and lower Manhattan had more significant declines but considerably more vacant space to begin with. Meanwhile, asking rents climbed a modest 3 percent in Midtown South compared to a 4.9 rise in Midtown. 
Despite the somewhat leisurely climb, Andy Roos, vice chairman of Colliers, thinks "Midtown South continues to be red-hot." He cites limited supply as one reason for the area's enduring popularity. "While they've been adding inventory downtown and on the West Side, in recent years the Midtown South stock has decreased because of conversions. Having said that, it has matured into a 24/7 live-work-play environment."
Midtown South is also increasingly symbiotic, with the tech, media and fashion tenants woven together in a relatively young and stylish area that suits all three industries. "If you look at digital companies," Mr. Roos said, "they have distribution. Then look at media: They have content. Content needs distribution, and distribution needs content. And fashion needs both."
Despite skyrocketing rents, Midtown South is still perceived as a hip alternative to its northern and southern neighbors. Part of that has to do with the conversions Mr. Roos described that deliver open, funky loft-like offices to start-ups and production companies who've dispensed with perimeter offices. At these firms, hierarchy isn't determined by office size, and pool tables are in higher demand than corner offices.
Demographical shifts also aid Midtown South's ascent. As postgraduates and young families eschew the suburbs for Brooklyn and Hoboken, they're less tethered to a Metro-North schedule and a building within easy reach of Grand Central. 
"Now, the truth of the matter is you can lease in [the] Grand Central [district] for less than Midtown South," Mr. Roos said "It's because there's a cool factor and a desire to recruit and retain."
As for the prospect of Midtown South cooling off, real estate brokers who focus on the area conceded that dramatic rent gains and airtight inventory cannot last forever. Indeed, the bump in availability described by Cassidy Turley wasn't the only less-than-rosy figure to emerge from the spate of third quarter data. Edward Minskoff's high-profile newcomer, again, had a lot to do with the mixed news. 
"Prior to 51 Astor being added to the slate, Class A asking rents had already stabilized," Mr. Persichetti said.  "They peaked at a $69 per square foot or so average in April and May. Then the number dropped to $67 the following three months. What happened was once you had 51 Astor—with an average of $90 a foot—it drove the number up to $75. It's a shame that one big block is changing the average rent."