Leslie Wohlman Himmel, Himmel + Meringoff
---
---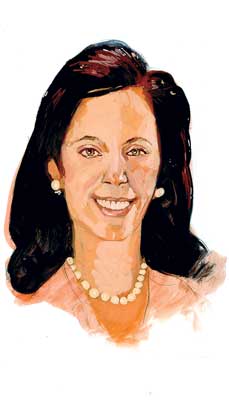 Favorite charity? 
Education, I support programing at the Children's Aid Society, which aids all aspects of a child's development, including health care, academics, sports and the arts in Brooklyn, the Bronx and the other boroughs. Women's education is also a passion, and I have endowed scholarship funds for women at Harvard Business School and Wharton.
Real estate prediction for 2014? 
Biggest change will be the potential of interest rates rising once the Fed slows down its purchases of $85 billion monthly debt purchases; rising cap rates may follow; leasing will stay strong in NYC with some submarkets better than others (i.e., Midtown South).
Where in New York is there still untapped potential for real estate development? 
The boroughs still have a lot of untapped potential for real estate development, particularly Long Island City.
Who will become New York City's next mayor?  
No comment.
What real estate policy should New York's next mayor make a priority?   
Real estate tax assessments need more transparency. Income and expenses filed annually by owners should be used for their accuracy without any changes by the city. Importantly, tenant improvement expenditures that result in increased rents should be amortized over the term lease; actual vacancy (not made-up vacancy) should be used.
What qualities do you look for in an agent representing your buildings? 
Creativity and drive.
What is one aspect of your business you wish you had more time for? 
More meetings in person.
Greatest fear: 
Another terrorist attack.
If approved, the Midtown East rezoning initiative will: 
Greatly improve Midtown, and architecturally distinctive buildings will be built.
In the film version of your life, which actor would portray you? 
Funny fact: My parents enjoyed watching Leslie Caron in Gigi and fell in love with her looks and personality and decided to name me after her.
Foreign real estate market you'd most like to invest in: 
China.
What should happen with Madison Square Garden and Penn Station? 
They both need to be totally refurbished if not completely rebuilt.
What New York City building should be torn down? 
Port Authority Bus Terminal.