Ivanhoe Cambridge Acquires Managing Interest in 1211 Avenue of the Americas for $850M
---
---
Ivanhoe Cambridge, the real estate arm of Quebec's public pension manager, has acquired a 51 percent managing interest in 1211 Avenue of the Americas from Beacon Capital Partners for $850 million.
"This investment exemplifies one of the priorities set out in our strategic plan: to build our office building portfolio in the United States by growing a critical mass of assets in key markets such as New York City," said Bill Tresham, president of global investments, in a prepared statement.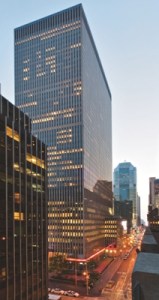 The 45-story Midtown tower, located between 47th and 48th Streets, is home to Rupert Murdoch's News Corp. and Axis Reinsurance.
The acquisition of the Class A property—part of a strategic relationship with Callahan Capital Properties—brings Ivanhoe Cambridge's total investment in the U.S. office and multifamily sectors to over $3 billion. Ivanhoe Cambridge declined to comment on financing for the deal.
The real estate company's Manhattan office portfolio also includes a 49.4 percent interest in 388-390 Greenwich Street, a 49.9 percent interest in 1411 Broadway and a 43.1 percent interest in 1745 Broadway.
In June, the Wall Street Journal reported Ivanhoe Cambridge and a partner had agreed to acquire a 49 percent stake in 1211 Avenue of the Americas, a deal valuing the property at $1.75 billion.