Intercept Pharmaceuticals Inks Deal at Milk Studios
---
---
Intercept, a biopharmaceutical company, has signed a 10-year, 11,124-square-foot lease for a portion of the fifth floor at Jamestown Properties' Milk Studios building, The Commercial Observer has learned. The deal also includes a commitment by the tenant to expand by a further 9,500 square feet next year.
The tenant will pay rent starting in the low-$70s per square foot, according to data from CompStak, with rent commencing after approximately one year of free rent.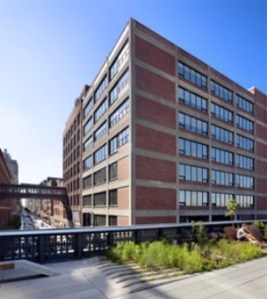 The deal was signed within the last two weeks and the tenant has already begun its construction planning, according to landlord broker Kyle Ciminelli, managing director at Newmark Grubb Knight Frank. "They'd like to be in by the end of the year," he noted.
Intercept Pharmaceuticals, which specializes in the development and commercialization of therapeutics to treat chronic liver disease, will relocate to 450 West 15th Street from 18 Desbrosses Street. The company went public in October of last year, pricing its shares at $15.00. Since debuting on the Nasdaq, shares in Intercept peaked at nearly $77 earlier this month before settling in the low-to-mid-$50 range.
Landlord Jamestown Properties closed on its $284 million acquisition of the Milk Studios building early this year. The eight-story, 325,000-square-foot, office building is home to the Milk photography studio and borders the High Line.
Cory Gahr of Studley represented the tenant in the transaction.