Gruss Capital Management Takes Full Floor in 510 Madison Avenue
---
---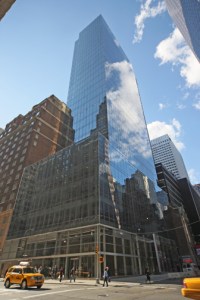 Gruss Capital Management is moving to the 16th floor of 510 Madison Avenue.
The capital management firm will jump from Class A building to Class A building in Midtown East, leaving the Lady Liberty-guarded 667 Madison Avenue to Boston Properties' building a few blocks down the street.
The firm will take an 11,500-square-foot space on the 16th floor of the building, The Real Deal reported. Characteristic of buildings in Midtown East with views of Central Park, the firm will pay rents below $100 per square foot and will break the triple digit threshold in a few years, according to data from Compstak.
The brokers on the transaction were not disclosed, but 510 Madison Avenue has been under the wing of CBRE's Paul Amrich, who was brought on a few years ago to boost up leasing activity.
"We have a great level of activity and we are willing to entertain deals from 2,500 square feet to multiple floors," said Mr. Amrich at a brokerage event in 2011.
Mr. Amrich and his team have been hard at working patching up the free space in the building. 510 Madison Avenue has had its share of legal issues with Macklowe but was eventually acquired by Boston Properties for $275 million.
The 355,598-square-foot Class A building lends itself favorably to high-end financial tenants. The upper floors of the building feature 11,500-square-foot floor plates that are easily divisible and offer unobstructed views of Central Park.
Several notable tenants such as the Canada Pension Plan Investment Board, 400 Capital Management, and Prosiris Capital Management have taken 10-year, full-floor deals.
Gruss Capital Management and The Greatest Good, the latest two deals, snatched up the remaining full floor offices in the building. A handful of smaller of options remain available.