Fairway Continues Expansion, Inks in FiDi
---
---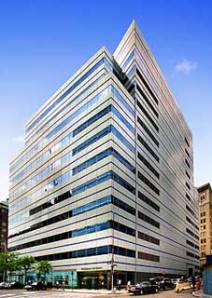 The regional chain Fairway is opening a store in downtown Manhattan.
The 52,242-square-foot retail space at 255 Greenwich Street will be the home of the company's sixth location in Manhattan and first below 14th Street. Fairway has recently been in expansion mode and has taken an anchor tenancy at Hudson Yards on the Far West Side, slated to open in 2015.
The store at 255 Greenwich Street, on track to open a year earlier in the fall of 2014, is split between two floors, offering a 11,358-square-foot ground floor section and 40,894-square-feet on the lower level. The lower level features 20-foot ceilings and includes a dedicated loading and freight port.
"The Greenwich Street corridor is the spine that connects Tribeca with downtown, and we're delighted that Fairway will make that link even stronger than with its presence at 255 Greenwich," said Burt Resnick, chairman and chief executive officer of Jack Resnick & Sons, the owner of 255 Greenwich Street. "We are confident that the new Fairway location will boost three great neighborhoods–-Battery Park, the Financial District and Tribeca–-establishing a popular shopping and dining destination for residents, workers and visitors alike as Lower Manhattan's retail renaissance continues on."
In-house brokers Brett Greenberg and Dennis Brady represented the landlord and a team of Alan Cooperman of Welco Realty and Jason Pruger of Newmark Grubb Knight Frank represented the tenant.
Fairway's lease takes 255 Greenwich Street's retail occupy rate to one hundred percent. Mr. Greenberg noted that asking rents ranged from $200 to $250 per square foot.
Previously, RR Donnelley, a print and related services company, occupied the lower 40,894 square feet of Fairway's space and used it as a financial printing operation.