Chinese Firm Signs Preliminary Deal As Atlantic Yards Majority Investor
---
---
Chinese state-owned property developer Greenland Holdings Group signed a preliminary deal to buy a majority stake in Brooklyn's Atlantic Yards, under which the Shanghai-based investor would take a 70 percent stake from Forest City Ratner Companies.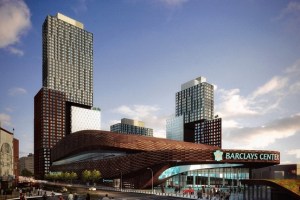 Under the proposal, Greenland would co-developing the residential portion of the complex and sharing its costs going forward, while FCRC would continue to manage the day-to-day activities, according to an announcement.
"We are delighted to have an opportunity to create a strong development and investment partnership with Greenland Group," Bruce Ratner, executive chairman of FCRC, said in a statement. "We look forward to working together to bring the housing and other amenities of Atlantic Yards to fruition."
In August, Forest City Ratner announced that it was seeking a majority investment partner to shell out up to $800 million to help make the Atlantic Yards residential development in Brooklyn a reality.
The residential project will feature roughly 6,400 apartments, across 22 acres, roughly 2,400 of which will be designated as affordable housing.
Delays had angered opponents and even supporters, who considered the housing to be the development's most critical component due to the 30 percent affordable housing component for poor- and moderate-income families, according to a previous report in the New York Times.
Mr. Ratner conceived the concept for the complex, which included the $1 billion Brooklyn Nets' Barclay's Center as a centerpiece for the residential component, in 2003, but an extensive land review, the recession and fierce community opposition led to missteps and years of delays.
The joint venture would cover development of both phase one and phase two of the project, excluding the Barclays Center arena and the first housing tower, B2, according to the Wall Street Journal, which first reported on the agreement.
Atlantic Yards, situated above train yards belonging to the adjacent Atlantic Terminal, will include about 6 million square feet of residential space, 247,000 square feet of retail, and about 336,000 square feet of office space.
The venture would be Greenland's second project in the United States, as the group reportedly purchased a 275,450-square-foot downtown Los Angeles site in July to build a hotel and residential units.
William Shanahan and Darcy Stacom of CBRE represented FCRC in the agreement, according to a company spokesperson. The brokers declined comment.