Brooklyn's Fulton Street Gets Free Wi-Fi
---
---
Residents and visitors strolling along Brooklyn's Fulton Street will have no problem connecting to the internet. In a partnership between the Brooklyn Academy of Music and the Fulton Area Business Alliance, 1.2 miles of Fulton street – about 26 blocks, will have Wi-Fi for free and open to the public. The service will start at Rockwell place extending to Classon Avenue. It also covers BAM's cultural district in the area.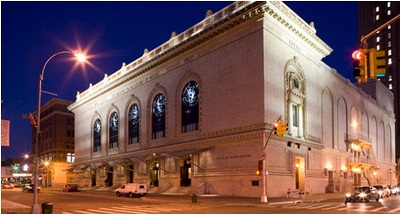 The deal to offer the Wi-Fi was the result of the Wireless Corridor Challenge, an initiative created by New York City's Economic Development Corporation. The initiative with 3.4 million in private funding and $900,000 in New York City money, aids with the design and implementation of free public W-iFi corridors in each of the five boroughs. The Wireless Corridor Challenge is a part of Mayor Michael Bloomberg's tech initiative's to expand broadband in the city's commercial buildings and public spaces.
Tamara McCaw, Director of Government and Community Affairs at BAM, said the Wi-Fi installation is set to start this year with an expected completion in the winter of 2014. The installation will be a process completed block by block. Equipment will be installed on buildings at area businesses in order to have proper coverage in the area.
"This project is about getting the arts outside of our institution," Ms. McCaw, also chairman of the board at the Fulton Area Business Association said. "We are really excited to be selected. We have businesses who were really excited to get involved in the project."
The Wireless Corridor Challenge will aid establishing new wireless corridors in Brooklyn, along the Fulton Street corridor, BAM Cultural District, Brownsville and Downtown; in Manhattan, in the Flatiron District, along the Water Street Corridor and the East River Waterfront Downtown, the 125th Street Corridor in Harlem and in Roosevelt Island; in Long Island City, Queens; in Staten Island's St. George commercial district; and on Fordham Road in the Bronx.