Bark Hot Dogs Inks Deal for Former Back Fence on Bleecker Street
---
---
Park Slope's Bark Hot Dogs will expand to Greenwich Village after signing a 1,200-square-foot long-term lease at 155 Bleecker Street, The Commercial Observer has learned.
The hot dog, french fry and milkshake spot will take over the space recently vacated after 68 years by The Back Fence music venue. Founder and chef Josh Sharkey intends to honor the old club by retaining much of its original decor.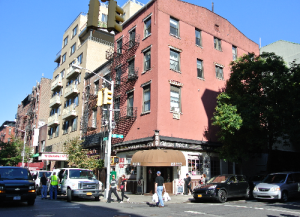 Jordan Cohn of SCG Retail represented the tenant in the transaction. Alan Napack of Cushman & Wakefield represented the landlord, Trevi Retail. Asking rent was $265 per square foot.
"[Trevi] was  looking for a tenant who was sensitive to the community needs," Mr. Napack said.  "And Bark had a good business model. They're from Brooklyn and have a neighborhood sort of shop. And in terms of aesthetics, they'll be keeping a lot of them."
Mr. Sharkey, who worked under top chefs including Grey Koonz and Rick Moonen, opened Bark Hot Dogs in 2009. The following year, New York magazine rated them as the city's best weiners. The franks are basted with smoke lard butter and all garnishes are made in-house.
[
Update
]Mr. Cohn said the Bleecker Street restaurant should be open in the first quarter of 2014. Speaking of the move from Park Slope to the Village, he said "It's a community-type restaurant, and we really wanted to play in a bigger community. Greenwich Village offers a lot of that. It's residential, and it also has [New York University]. There's more vertical density, but still a very neighborhood feel. One day we were looking at the space and heard a woman yelling out of her window to her landlord about getting her batteries."
As for further expansion, Mr. Cohn said that the plan with Bleecker Street is to "prove that Bark is more than just a Park Slope restaurant. Then we would look to do specifically targeted community restaurants in dense, liberally minded" neighborhoods. Citing Bark's commitment to sustainable ingredients, he mentioned the Upper West Side as a potential future site.
"At this point," he said, "mass-feeding environments like Midtown aren't the bent" of the restaurant.