51 Astor Lands First Tenant
---
---
Months of speculation over pending deals at Edward Minskoff's 51 Astor place are now at least partially substantiated with the signing of the "spec" tower's first tenant.
Online auctioneer 1stdibs has signed a 15-year lease for the 12-story building's entire 42,232-square-foot third floor.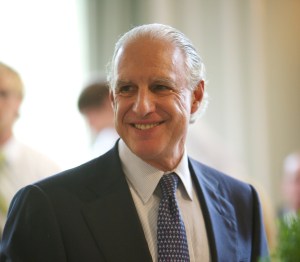 The company, which will relocate from its current offices at 156 5th Avenue in the Flatiron District, has grown over the last three years from a small operation employing roughly 20 people to one that now boasts well over 100, sources said, noting that a key draw to the new space, in addition to its sheer size, was its open floor plan.
Months of speculation over pending deals at the tower had until now proven fruitless, despite Mr. Minskoff's insistence in the past that "tenants want to see a building…they want to see reality… they don't want conjecture," inspiring his decision to go spec.
Months without a deal even birthed a spoof Twitter page that mocked its absence of tenants, tweeting out messages such as, "I'm so depressed… Been thinking about demolishing myself."
But Jones Lang LaSalle broker Paul Glickman, the head leasing agent at the building, has insisted that more deals are coming, and if history is indicative of the future, Mr. Minskoff will have the last laugh.
More than three decades ago Mr. Minskoff started construction on the sprawling, 7½-million-square-foot World Financial Center (renamed Brookfield Place), without a single tenant in contract, patiently securing giants like American Express, Merrill Lynch,Oppenheimer and Dow Jones as the development played out.
The LEED Gold-rated 51 Astor Place towers above the rest of the neighborhood, where a 24-hour McDonald's, Ray's Pizza and an array of small shops and restaurants harbor strong foot traffic that is accentuated by the perpetual buzz of college students.
Three storefronts wrap around the ground floor, and a school will occupy a second-floor space. A black-and-white granite lobby is anchored by a "14-foot candy apple red balloon rabbit" sculpture by Jeff Koons, which Mr. Minskoff said was "probably going to be one of the most iconic sculptures that Jeff Koons has ever done in his career."
Mr. Minskoff tapped Mr. Glickman, along with Mitch Konsker, Cynthia Wasserberger and Peter Riguardi, also from JLL, to lease the building earlier this year.
Mr. Glickman did not immediately respond to requests for comment, though in August he told The Commercial Observer that he and his firm were "in lease negotiations with three tenants for a substantial portion of the building."
"51 Astor is among the most sophisticated office properties in the city, and it is an ideal location for a company that wants to leverage the creativity and energy of the surrounding neighborhood," he said at the time.
Newmark Grubb Knight Frank's Greg Wang, Eric Cagner and David Falk represented the tenant. The brokers declined comment, but sources confirmed that the deal had been solidified and that 1stdibs plans to move by the end of the year.
A report in Crain's first broke word of the deal.