Judge Orders 650 Fifth Avenue Ownership to Forfeit Assets
---
---
A string of new leases and other positive news emerged after a "coming-out" party at 650 Fifth Avenue in October of last year, distancing the new ownership scheme from the building's alleged ties to Iranian interests.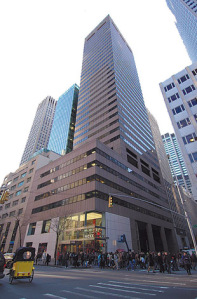 But according to a New York federal judge, the repositioning of the building was reportedly just that – part of a scheme to launder money on behalf of the Iranian government.
The Real Deal, citing information uncovered by Law360, reported that U.S. District Judge Katherine Forrest ruled that Assa Corp., Assa Co. Ltd. and the Alavi Foundation must forfeit all assets subject to litigation brought by the U.S. government, including their ownership stakes at 650 Fifth Avenue, stopping the case short of a trial.
"The court has found that, based on the uncontroverted record evidence, Assa was (and is) a front for [Iran's first national bank] Bank Melli, and thus a front for the government of Iran," the judge said in her ruling.
The Central Bank of Iran gave a $42 million loan to Bank Melli to build the property, which was loaned to nonprofit Pahlavi Foundation, a.k.a Alavi Foundation, the majority owner and managing partner at the building, which in turn purchased U.S. charitable interests on behalf of the Iranian government, according to the reports, based on court documents.
The positive news coming out of the building so far this year suggested a rebirth of its image, following the original allegations that the building was a front to funnel money into Iran.
In June 650 Fifth Avenue launched a partnership with New York University in the form of "New York Through My Eyes," a running digital photography exhibit in the building's lobby that features photos by six photography students.
In April, international investment advisory firm Metropolitan Real Estate moved its New York headquarters from 135 East 57th Street to 650 Fifth Avenue. In March, TGM Associates, a New York-based investment advisory firm, renewed its 11,280 square-foot lease at the building. And, in January, Korea-based financial institution Hana Bank signed a 10-year, 7,318 square-foot renewal.
A spokesperson for the Alavi Foundation sent The Commercial Observer the following statement, indicating that the group will appeal the decision:
"We are obviously disappointed with the district court's decision granting partial summary judgment against the Alavi Foundation. We have reviewed the decision and disagree with the court's analysis of the facts and the law.
The Foundation was ready for trial and is disappointed that it did not have the opportunity to rebut the Government evidence before a jury. The Foundation intends to appeal the court's decision once final judgment is entered."