How Much Was Friends' Pad Really Worth?
---
---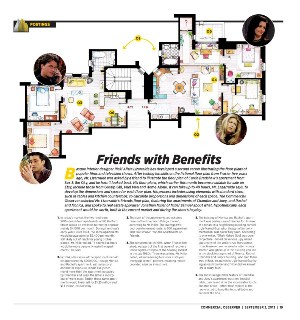 Basque interior designer Iñaki Aliste Lizarralde has developed a second career illustrating the floor plans of popular films and television shows. After testing his skills on the fictional floor plan from Frasier five years ago, Mr. Lizarralde was asked by a friend to illustrate the floor plan of Carrie Bradshaw's apartment from Sex & the City, and he hasn't looked back.
His floor plans, which earlier this month became available for sale on Etsy, include those from Gossip Girl, Mad Men and Home Alone. It can take up to 40 hours, Mr. Lazarralde says, to develop the dimensions and space for each floor plan. His process includes using elements with standard sizes, such as tables and kitchen countertops, to calculate proportions and dimensions of each space.
The Commercial Observer selected Mr. Lizarralde's Friends floor plan, featuring the apartments of Chandler and Joey, and Rachel and Monica, and spoke to real estate appraiser Jonathan Miller of Miller Samuel about what, hypothetically, each apartment would be worth, both in the current market and during the show's heyday.
[scribd id=165136517 key=key-f5hsrercplmc0mva58k mode=scroll]