Halpern Real Estate Ventures Receives $26 Million Loan for Lower East Side Rental Development
---
---
Sovereign Bank has provided a $26.1 million construction loan for Halpern Real Estate Ventures' 80/20 multifamily building in the works at 331 East Houston Street, Jon Halpern, chief executive and managing director of the boutique real estate investment and operating firm, told Mortgage Observer.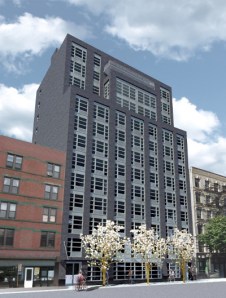 The construction loan came with a term of three to four years and a floating interest rate tied to Libor, Mr. Halpern said. The loan was arranged by Richard Horowitz of Cooper-Horowitz and closed shortly after Labor Day.
HREV and a group of fellow investors are sponsoring the development of a 64,000-square-foot, 78-unit rental building on the 8,000-square-foot site in the Lower East Side. The developers acquired the site in the second quarter of 2012. Mr. Halpern and his partners put $14 million in equity into the project to cover the remainder of the $40.1 million cost.
The owners are working with the New York City Department of Housing Preservation and Development to ensure that their project meets all requirements for the city's affordable housing program, the veteran developer and real estate investor said. Up completion, 80 percent of the units will be rented at market rate, while the other 20 percent will be based on New York City area incomes.
"The goal is to develop a great product that addresses the market needs of young professionals in the Lower East Side," Mr. Halpern told Mortgage Observer. "We'll likely look to sell the project upon stabilization."
HREV has investments in nine other multifamily developments in the works in Lower Manhattan, Brooklyn, Westchester and Jersey City.