From the Gut: HFZ Capital's Ziel Feldman on the Making of a Gut Renovation Empire
---
---
A real estate lawyer in the early part of his career, Ziel Feldman has carved out a niche as one of the most active developers in the New York market. Mr. Feldman, founder and managing principal of HFZ Capital, has taken on ground-up development and the acquisition of existing properties. With an extensive presence on the Upper West Side, Mr. Feldman and HFZ Capital have entered new markets including Flatiron, where One Madison, a condominium project developed in partnership with Related Companies, recently opened for sale boasting residences priced as high as $50 million. Mr. Feldman spoke with The Commercial Observer last week about HFZ Capital's current projects and his outlook for the market.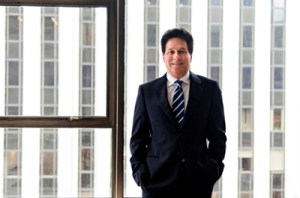 Currently, we're doing both acquisitions, and we're doing a lot of ground-up. Traditionally, with my predecessor company, we didn't do a lot of ground-up. I'd say our workload today is split between ground-up, high-rise and existing structures.
There definitely aren't efficiencies. If you want to know what it costs, it's hard to say. Generally speaking, you can renovate a building for less than a ground-up development, but that can very easily spiral out of control.
You were one of the final bidders for 650 Madison Avenue. Could you describe the potential you saw in the building and what your vision was?
As you know, we are not office developers. Our plan was purely a residential play. If the building could be vacated, which we thought we could do in five or six years, it would make probably the best residential site in the city, because of its more or less unobstructed view of the park. It's located right between the Pierre and the Sherry-Netherland.
The primary purchasers we thought would be foreigners—we have a lot of foreign partners, investors and buyers. We thought residential was the highest and best use and we could make a lot of money.
Do you think your vision was unique?
The sellers were pushing the residential play—not to the extent we developed it—but they were marketing it as a potential residential play. As an office play, it's a totally different ball game. The current buyers are low-levered with a lot of pension and institutional money.
You have developed One Madison Park with Related, and the sales office is now open. Can you describe the project and where things stand?
It was a beautiful building that we ended up taking over, and we enhanced it even more. We spent more money on the common areas, we have a beautiful entrance now on 22nd Street, and the market is now moving in our direction. The area never really comped out more than $1,500 per foot, except for this building on the first go-around. Now you have the development of the Clocktower, so just by luck our timing is great there. We are one of the few buildings with 360-degree views on most of the building, purely because you are in a low-rise neighborhood. We're excited.
How would you describe working with names like Related and Extell? Is that process hard to manage, or is it beneficial?
In any deal, people get married by either choice or by necessity. Unless all the parties have some added value, there's no reason to be partners.
In a previous life, we were partners with Extell; it wasn't called Extell then, but we haven't collaborated in a while. Now, we partner with institutions like CIM, Carlyle, Related on a private level and Vornado.
On the 1 Madison Park deal, we are partners with Related, because we were fighting with each other, so we decided to get married. Certainly, that doesn't mean Related needs us to develop a building, and, thank God, we don't need them, but doing it together has had a great synergy. Perhaps even more than them, we are very keen on the foreign consumer, and we have a lot of foreign connections, so bringing in buyers from overseas is something we are good at, and they're wonderful salesmen for domestic buyers. It has really worked out well.
Late last year, you acquired a property on the Upper West Side, the Chatsworth. Can you explain what motivated the acquisition and what the plans are?
We are the largest converter of prewar buildings on the Upper West Side, so we saw a great opportunity. It was well-marketed, so I certainly didn't steal it, but what I did do was get the seller to feel confident in our ability to pull it off in a beautiful way, because they wanted to buy future condos in the building to live in.
It wasn't just about the price, because I don't think I was the highest price. It was about the proper structure and feeling comfortable. They owned this for 60 years, if I recall, and they wanted their baby in good hands.
Where I saw the opportunity was we were paying a fairly cheap price for the bricks. We think the pricing for units is well north of low- to mid-twos. There is no product at all on the Upper West Side. The demand for apartments on the Upper West Side is insatiable, and there is no product.
The Laureate that was developed as a prewar building has been fairly successful. It came out in a bit of a tougher market, but now I think they are averaging about mid-twos. Everything else that was built was Extell, Trump—newer buildings. It starts where the Chatsworth is and works its way south on Riverside, which is sort of an extension of the West Side, but it's a funky neighborhood a little bit.