Conrad Hotel Creates App, Offers Wi-Fi for High-End Guests
---
---
The Conrad New York, a lower Manhattan luxury hotel, is using technology and beefing up its Wi-Fi service to enhance its reputation among contemporary travelers. The Hilton-branded hotel, located off the Hudson River in Battery Park City, is giving guests the power to request hotel services without dialing the front desk from a traditional phone.
Guests at the Conrad can request hotel services from their iPhone and iPad during their stay at the property on- and off-site once the room is booked. The new-age spin on luxury hotel services is packaged in its concierge application. Guests can request towels, make spa appointments and order breakfast, airport pickup and other services from the app.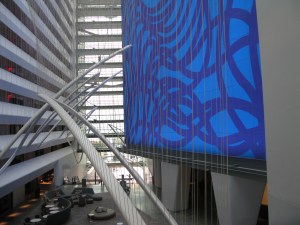 The service can be downloaded from the Apple Inc. app store. The hotel is also offering Wi-Fi service for up to three devices for each hotel room. The hotel charges a fee for use of its Wi-Fi service.
The Conrad New York is a LEED-certified property and has 463 suites to accommodate guests. It has other locations in the United States including Miami, Chicago and Indianapolis. It also has international locations including resorts in South America, Asia and Europe.
The Conrad does offer the app at some of its locations outside of New York. The hotel did not announce plans to release an android version of the concierge application.