CityMD Inks Latest Lease at 1140 AoA
---
---
CityMD has signed a 12,750-square-foot lease at 1140 Avenue of the Americas, where a string of new leases have brought new light to the once uncertain future of the pre-war Midtown tower.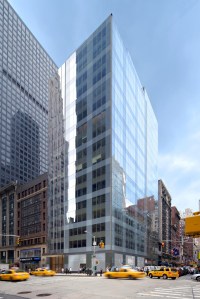 The lease to the urgent care practice, which has multiple locations throughout the city, comes along with King & Grove's 5,284-square-foot commitment for its headquarters at the building. And those leases follow last month's 7,466-square-foot Grace Beauty lease and Knighthead Capital Management's 12,750-square-foot commitment.
Other tenants to recently file into the building include Starwood Property Trust, which signed a deal for the entire 12,750-square-foot fifth floor. The string of leases is a testament to the work of Jones Lang LaSalle, which has brokered more than 130,000 square feet in the building over the past 18 months – and to that of the Blackstone Group, which purchased and hired the brokerage to fill the space.
The building is owned by Equity Office Properties and Blackstone Group, which won a contentious bidding war for the property in 2011, after 30 firms fought for the $116 million nonperforming note, then held by Laurence Gluck's Stellar Management and partner Rockpoint Group.
By purchasing the note on the 22-story, 231,000-square-foot building, for roughly $100 million, Blackstone inherited a partially renovated tower, after which a full modernization followed, including a new glass façade, new lobby, new elevators, and redesigned mechanicals and infrastructure.
Douglas Neye and David Wassel of JLL, and Equity Office Properties' in-house broker Jessica Kanfer, represented the landlord in the latest lease, but they did not respond to requests for comment in time for publication.
Sinclair Li, Sam Seiler and Peter Shikar of CBRE represented the tenant. The brokers declined comment.
1140 Avenue of the Americas
,
Blackstone Group
,
CityMD
,
David Wassel
,
Douglas Neye
,
Grace Beauty
,
Jones Lang LaSalle
,
King & Grove
,
Knighthead Capital Management
,
Rockpoint Group
,
Sam Seiler
,
Sinclair Li
,
Starwood Property Trust
,
Stellar Management