Troubled Durst Brother Arrested for Trespassing
---
---
Admitted killer Robert Durst was reportedly arrested last week for trespassing and breaking the terms of a restraining order his brother, real estate tycoon Douglas Durst, has against him.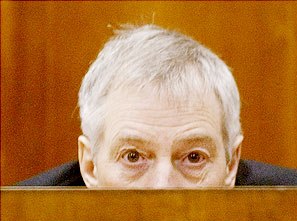 The 73-year-old with a troubled past reportedly scoped out Douglas Durst's midtown Manhattan home in June after being told to stay away. He was arrested outside his Harlem home on Friday.
Mr. Durst's past is riddled with troubling incidents. In 1982, his young wife disappeared. In 2000, a close friend of his was murdered execution-style. Though never charged in connection with those incidents, in 2001 he admitted to killing and dismembering his 71-year-old neighbor in Texas – a crime for which he was later acquitted.
The Durst brothers are the sons of the late Manhattan real estate mogul Seymour Durst. But it was younger brother Douglas and a cousin who inherited the family business. In 2006, Robert Durst cut his ties to the family business their business for a payout of about $65 million.
Mr. Durst purchased a 19th century townhouse at 218 Lenox Avenue in Harlem in October of 2011 for $1.75 million.
"It gives people great discomfort knowing someone who dismembered someone is moving in," neighbor Danielle Davis told this reporter at the time. "That is pretty heinous to even know someone is capable of something like that."