Soho, Noho Boast Lowest Availability Rate
---
---
Which submarket out of the 17 submarkets tracked by Cassidy Turley claims the lowest availability rate through the first seven months of 2013?
Well, if you guessed the Soho/Noho/Village submarket, you would be correct! I have to admit, before I worked in Manhattan real estate, the only thing I knew about this area is that it was home to Little Italy, where I make it a point to attend the Feast of San Gennaro every September. But working in real estate, I had to learn more about this quirky neighborhood that has a mix of many different tenants, from artists and designers to tech and media.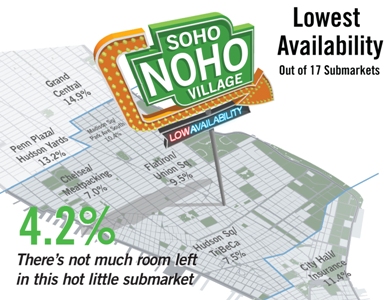 At 4.2 percent availability, Soho/Noho/Village is the tightest Manhattan submarket. Although it is the second smallest submarket, with only 6.6 million square feet of inventory, tenants have been busy leasing space in this area this year. When 2012 ended, availability was at 10.8 percent, but with 156,000 square feet of leases signed by Facebook and High5 Games at 770 Broadway—along with IDEO's 28,500 square feet at 408 Broadway and BGB Communications' 25,000 square feet at 462 Broadway—availability plummeted 6.6 percentage points.
The lack of available space has caused pricing in the area to reach all-time highs. Class A asking rents averaged $75 per square foot fairly consistently over the past seven months, while Class B asking rents have shown an 8.6 percent increase since the end of 2012, to $55.21 per square foot.
But as the Don Henley song goes, "everything can change in a New York minute," and the title for lowest availability will likely change hands soon. The newly developed 400,000-square-foot 51 Astor Place will be added to the Cassidy Turley statistics this quarter. Short of some new leases being announced, this could propel the availability rate north of 8.5 percent before the feast of San Gennaro wraps up at the end of September.
408 Broadway
,
462 Broadway
,
51 Astor Place
,
770 Broadway
,
Cassidy Turley
,
Don Henley
,
Facebook
,
High5 Games
,
Little Italy
,
New York Minute
,
noho
,
Richard Persichetti
,
Soho