Odessa Cafe Closes After 33 Years, "American Brasserie" on the Way
---
---
After 33 years at 117 Avenue A, the bar and vaguely Ukrainian diner Odessa Cafe will serve its last pierogi on August 31st.
Rumors of the closing picked up steam in May when a tenant going by 117 Avenue A Food & Drink LLC  applied for a new liquor license with Community Board 3. Odessa's building went up for sale the following month. Now, after a closing date first reported as August 15th and then September 6th, the Alphabet City stalwart will pack it up over Labor Day weekend.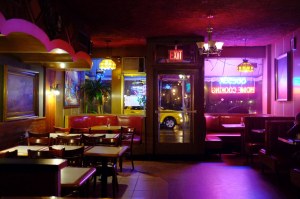 Details are scarce regarding the new business, but EV Grieve pointed out that 117 Avenue A Food & Drink LLC shares an address with 9300 Realty. That controversial landlord is owned by the divisive Steven Croman, the owner (and some have said slumlord) of downtown residential buildings. The CB3 filing described a "full-service American brasserie restaurant" that would replace Odessa, one of few remaining vestiges of the East Village's time as a haven for Eastern European immigrants.
While the loss of the dimly lit Odessa Cafe represents yet another blow to the East Village's funky past life, old-timers can still get their share of American and Slavic fried goodness at Odessa Restaurant, the greasy spoon at 119 Avenue A.