NGKF Takes Over as Leasing Agent at One Liberty Plaza
---
---
Newmark Grubb Knight Frank has been hired as the leasing agent for One Liberty Plaza, landlord Brookfield Office Properties announced today.
"We are pleased to have the Newmark Grubb Knight Frank team in place to help us lease the upcoming block at One Liberty Plaza," said Jerry Larkin, the senior vice president of leasing at Brookfield, in a prepared statement. "The building's direct access to Fulton Street Transit Center and the World Trade Center Transit hub, its column-free space, ample infrastructure and spectacular views provide a unique value opportunity for prospective tenants."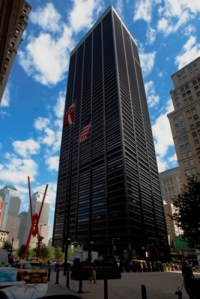 The leasing team for the 54-story, 2.3 million-square-foot building will include David Falk, Hal Stein, Peter Shimkin and Nick Berger.
"We're very excited to be partnering with Brookfield in leasing up one of the most prominent buildings downtown," added Mr. Falk, president, New York Tri-state region, at NGKF, in the statement. "Our team will be targeting tenants that are looking for the best value in one of the most established and vibrant business districts in the US."
One Liberty Plaza's tenant roster includes Cleary Gottlieb, Zurich Insurance, FINRA, the Royal Bank of Canada and the Investment Technology Group. By mid-2014, the property, which currently boasts over 95 percent occupancy, will offer a 240,000-square-foot block of contiguous space on floors 22 through 26.
As reported by The Commercial Observer, Transatlantic Reinsurance Company signed a 15-year, 134,000-square-foot lease at One Liberty Plaza earlier this year.
brookfield office properties
,
Cleary Gottlieb
,
David Falk
,
FINRA
,
Investment Technology Group
,
Jerry Larkin
,
Newmark Knight Frank
,
Nick Berger
,
One Liberty Plaza
,
Peter Shimkin
,
Royal Bank of Canada
,
transatlantic reinsurance company
,
Zurich Insurance