Fairway Market Inks on Far West Side at Hudson Yards
---
---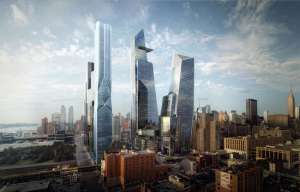 Fairway Market, the upscale grocer with more than a dozen locations across the tristate area, has inked a 46,000-square-foot deal at the center of the highly anticipated Hudson Yards complex.
The new location, Fairway's 14th, will open at the corner of West 30th Street and 10th Avenue in what is being referred to as the South Tower of Hudson Yards. It's slated to open in 2015, according to Crain's New York, which first reported the news last week.
With annual revenues totaling $800 million, the grocer has been expanding rapidly in recent years. The company initially took space outside the city with markets opening in Paramus, New Jersey; Stamford, Connecticut; and Pelham Manor in Westchester.
Fairway also opened locations on the Upper East Side and Queens in 2011, Kips Bay in 2012, and most recently Chelsea on the Avenue of the Americas in July.
CBRE (CBRE)'s team of Bob Alexander, Howard Fiddle, Rob Stillman, Len DiMicelli, Zakery Snider and Ryan Alexander represented the landlords Related Companies and Oxford Properties in the transaction.
Dubbed by Related founder Stephen Ross as the "most ambitious construction project in the history of New York," Hudson Yards broke ground in December on the South Tower, which, when completed, will stand 47 stories and 1,700,000 square feet. The South Tower represents a little more than a tenth of the development, which will span 13 million square feet. Six million square feet will be dedicated to commercial real estate.
SAP America Inc. was quick to sign on to approximately 110,000 square feet in April for the 44th to 47th floors. Last month, management decided to take the 43rd floor, bringing it to about 144,000 square feet.
SAP's occupancy is dwarfed by L'Oreal USA, which signed a deal for 402,000 square feet at the south tower. Mid-range luxury retailer Coach took even more space, reportedly paying $750 million for a 740,000-square-foot global headquarters in the building.
coach
,
Fairway
,
Fairway Market
,
Hudson Yards
,
Len DiMicelli
,
L'Oreal
,
Ryan Alexander
,
SAP America
,
CBRE
,
Oxford Properties Group
,
Related Companies