Comptroller DiNapoli Pushes Investment in Silicon Alley
---
---
As part of New York's ongoing promotion of Silicon Alley, State Comptroller Thomas DiNapoli yesterday announced investments in two New York-based tech companies. Both RebelMouse and Coopkanics have received venture funding through the In-State Private Equity Program, from SoftBank Capital, an investment partner of the New York State Common Retirement Fund.
"The state pension fund is reaping the rewards of its commitment to New York City's Silicon Alley," Mr. DiNapoli said in a prepared statement. "This round of funding for RebelMouse and Coopkanics was made possible in part by previous Fund investments in technology startups. These commitments will help them continue to develop and grow right here in New York."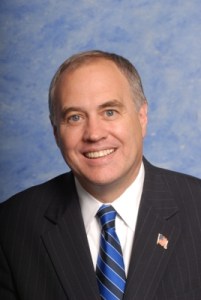 The In-State Private Equity Program, which partners with private equity managers seeking to investment in companies based in New York, boasts an internal rate of return of over 30 percent, according to a state fact sheet. As of 2012, $206.2 million invested in 75 companies had returned $322.1 million.
RebelMouse, which had previously announced investment earlier this month, will receive $10.25 million in Series A funding. The company, a social media aggregator, is run by Paul Berry, the former chief technology officer at the Huffington Post, which previously received funding from the In-State Private Equity Program.
In July, CoopKanics, of which little is known, received $3 million in Series A funding. The start-up's founders, Jordan Cooper and Doug Petkanics, had previously received State investment for Hyerpublic, a company later acquired by Groupon.
The In-State Private Equity Program continues to pursue investment in New York companies, with $393 million available as of June. Since taking office in 2007, Mr. DiNapoli has added $624 million to the program. In 2011, $60 million has been allocated to specifically target early-stage companies.
New York start-ups largely eschew the traditional user-based formulas popular in Silicon Valley, favoring instead revenue-driven models. "Some start-ups might not need funding or additional funding beyond the seed or Series A stage," Ashkan Zandieh of ABS Real Estate previously told The Commercial Observer.
ABS Real Estate
,
Ashkan Zandieh
,
Coopkanics
,
Doug Petkanics
,
Groupon
,
Hyperpublic
,
In-State Private Equity Program
,
Jordan Cooper
,
New York State Common Retirement Fund
,
Paul Berry
,
RebelMouse
,
SoftBank Capital
,
Thomas DiNapoli