Compliance Meets Tech: Co-Founders of SiteCompli Speak Out
---
---
There are only two things in life that are certain, so the story goes: death and taxes. However, in real estate, there's a third—complicated government regulation. At least, that's what Jason Griffith and Ross Goldenberg, co-founders of SiteCompli, believe. Fortunately, the two men co-founded a website that compiles data from local government agencies and tracks various complaints, violations, hearing schedules, equipment inspections and permit renewals all in one place. Wired City spoke with them earlier this month to learn what their innovative new technology can do for you.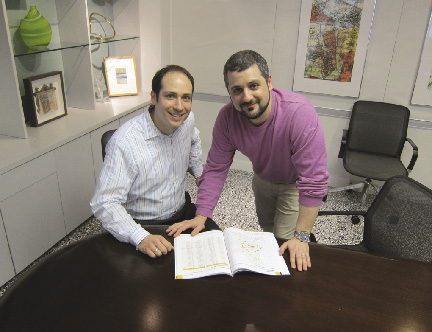 Mr. Griffith: Keeping track of elements that financial institutions, building owners, managers and property owners face on a daily basis is time-consuming, so SiteCompli automatically aggregates, analyzes and alerts you. It's a way to help executives, property managers, vendors and consultants collaborate, communicate and receive all of the same information.
Mr. Goldenberg: This way, everyone is able to focus on resolving issues rather than hunting down the problems themselves. Essentially, people spend more time trying to fix problems and less trying to ascertain what those problems are.
Is noncompliance a growing problem?
Mr. Griffith: Well, since every major company is using us, it's clearly a problem. All of them need help. The world of compliance is complicated.
Mr. Goldenberg:  Whether you're a big or small property manager, you should be resolving problems, not trying to track down paperwork. Technology should be taking care of that. Commercial property managers, in particular, have buildings that leave larger footprints and carry more complexities, especially in regard to their general upkeep, so they are exposed to multiple fines.
What are some of the benefits SiteCompli offers?
Mr. Griffith: We alert everyone through email when critical events are coming up, like permit expirations, inspection dates and NYC Environmental Control Board hearings. We also notify landlords of changes in legislation, job filings and 311 complaints so that they can fix a problem before the city even puts the call in. When tenants call 311 instead of the landlord, complaints become official violations. With SiteCompli, you get notified of complaints before they do. We remind you of hearing dates and ensure equipment inspections are filed on time.
Mr. Goldenberg: And, you don't have to be tech-savvy at all—we do all of the work, and make sure it's delivered to your inbox.
Where did the inspiration to start this company come from?
Mr. Goldenberg: Over the past five years, we've seen a trend toward more accountability and higher risk for noncompliance, and we really wanted to develop a technology that got to the nitty-gritty of the complex building problems. It's not as simple as bringing a car to an auto mechanic; it takes a lot to keep track of the numerous issues. This is an area untouched by innovation.
Mr. Griffith: We've got nearly 1 billion square feet of real estate covered.
Who are your main clients?
Mr. Goldenberg: Owners, managers, site developers, service companies and landlords.
What are the various departments you gather from?
Mr. Griffith: The New York City Department of Buildings, Environmental Control Board, Department of Environmental Protection, Department of Housing Preservation and Development, and the Fire Department.
How else do you use technology in an innovative way?
Mr. Goldenberg: We can integrate your compliance dates, automatically, with your iCal, Outlook, Google Calendar, Blackberry, etc. We feed live data reporting into Excel.
How many people are on your team?
Mr. Griffith: About 25, so we have ridiculous customer service turnaround. If you call us at 11 p.m. on a Saturday, you'll hear back before the next morning.
How do people know if it works?
Mr. Griffith: We let you try it for a month, but companies almost always call us to sign on after a couple of weeks. We're helping people stay a step ahead of the game.