Co-Working Spaces Have the Best Connection
---
---
In New York City, co-working spaces have been multiplying, and, perhaps surprising to some, they have some of the best and fastest Internet speeds around. Ideal for smaller businesses and startups, companies can move in and set up shop for a team of up to 12 people within 24 hours.
"Almost all co-working spaces come prewired with the best telecom, and, since it's shared, getting a high level of service becomes much more reasonable from a cost perspective," Jonathan Wasserstrum, founder and CEO of TheSquareFoot, an online platform that helps companies find and lease office space, said. "Also, the companies don't have to worry about signing up for long-term contracts with the providers."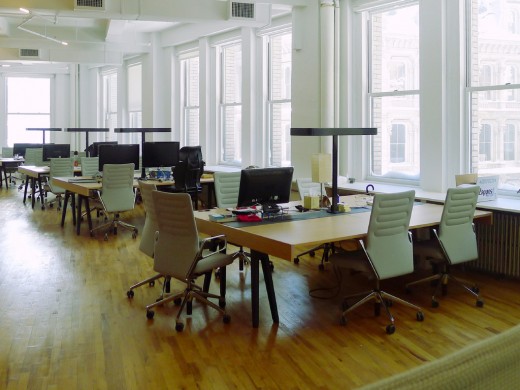 Because tech startups want lots of flexibility around how they structure their leases, especially with respect to their duration, co-working spaces are the perfect solution for his clients, Mr. Wasserstrum said.
"It's often hard for a small team to find traditional office space," he said.
Co-working space Sunshine Suites, for example, has locations in Noho, Tribeca and the Bronx, with dedicated fiber installed in their Tribeca location and complimentary Wi-Fi up to 50mb at all locations. Sunshine Suites is under an exclusive contract with Everest Broadband, which provides T3 (45mb bandwidth) at all desks, co-working tables and conference rooms, with servers on each floor. Tenants of the space are also offered an unlimited number of Ethernet cables, free of charge.
"Since everything is month-to-month, it saves you time from having to set up each individual network for each individual client and having to install it in every workspace at every desk," Reed Beaty, sales manager at Sunshine Realty Management LLC, said. "Our broadband capability is one of the driving forces bringing people to us. Especially with tech companies, multiple computers uploading tons of data can become expensive."
For Sunshine tenant Shayne Spencer, founder and CEO of Web design company Think Work Media, high-speed, reliable Internet is important, since a lot of his clients and colleagues are remote and communicate through video-conferencing and screen-sharing.
"At home, I have to pay extra for Optimum Business Class. It's fast, but still, the Wi-Fi would crap out at some point," he said. "The speed they have at Sunshine in Noho lets you get stuff done and look at things in real time."
Another co-working space in lower Manhattan, Hive at 55, has "a lot of different fiber coming into it," Daria Seigel, the location's manager, said.
"Everyone is pleasantly surprised with how fast upload and download speeds are," Ms. Seigel said. "Lower Manhattan generally has such great fiber, post-Sandy, since all the copper is being replaced with broadband fiber."
Ms. Seigel added that another bonus is not having to worry about a thing if, for some reason, the system goes down—they'll handle it.
"Members appreciate being able to focus on whatever they're doing, and not worry about the day to day issues of having your own long-term lease," she said.