Time Warner Deal Imminent at Hudson Yards
---
---
Related Companies is reportedly landing another high-profile tenant at Hudson Yards, as Time Warner gears up to move from its Columbus Circle headquarters into a new 80-story skyscraper-to-be at the 26-acre west side complex.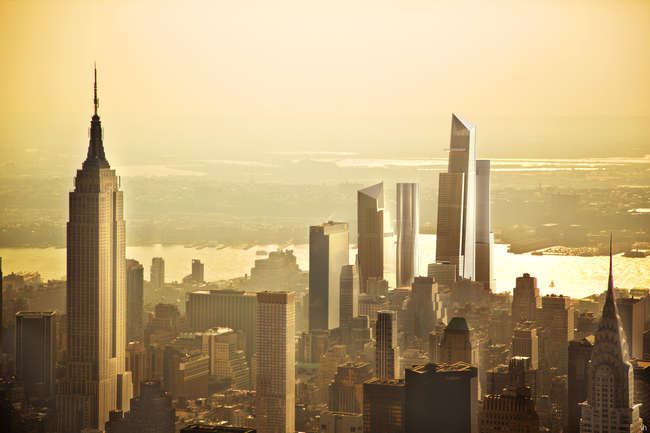 Following a string of reports over the last several weeks indicating an imminent deal, The New York Times reported yesterday that Time Warner will buy more than half the space in the new 2.4-million-square-foot Hudson Yards tower.
The move would give Time Warner a highly visible corporate presence among a star-studded lineup of neighbors that includes Coach, SAP and L'Oréal, which cut deals with Related earlier this year at a separate 47-story tower currently under construction, known as South Tower.
"Steve Ross and his team have done a spectacular job in attracting office tenants and the architecture there is really fantastic," said Leslie Himmel, managing partner of Himmel+Meringoff, who was not involved with the deal.  "I give them a lot of praise for their execution."
As part of the agreement, Related will reportedly pay Time Warner $1.3 billion for its space at the Time Warner Center complex in Columbus Circle — where the media giant moved a decade ago — and transfer the company into a short-term lease until the new tower is built.  Tenant rep firm Studley is representing Time Warner in the relocation, but all sides of the transaction remain tight-lipped as the final negotiations pan out.
"Everybody's been very hush hush about it – especially since this is one of the biggest deals in the history of the city," said one Studley broker, who wished to remain anonymous.  The firm's chairman and CEO, Mitchell Stein, who is handling the relocation, did not return phone calls seeking comment in time for publication.
Related's ability to land another big name at the complex speaks volumes about not only the state of the market, but the increasing desire among first-class, corporate tenants for new, high-end space, and it further increases the likelihood that Hudson Yards will emerge a fruitful new commercial district.
The Time Warner anchor also gives Related the green light to move forward with the office tower, one of two at the complex, which will also include a glass-walled luxury mall, a cultural institution, a 72-story residential building and a 60-story mixed-use building.
In addition, it will help Related attract more creative companies, perhaps most evident in the fact that Related is reportedly selling office space at cost, a bet on eventual profits from the retail and residential portions of the project.
The complex will include more than 6 million square feet of commercial space, 750,000 square feet of retail space, about 5,000 residences, a new school, and a luxury hotel.  It is located near the West Side Highway, the Lincoln Tunnel, and the extension of the No. 7 subway line, which is scheduled to open in 2014.
Douglas Harmon and Adam Spies of Eastdil Secured are reportedly representing Time Warner in the sale of the Columbus Circle location.  Mr. Harmon did not return calls seeking comment, and Mr. Spies declined comment.  A Related spokesperson also declined comment.