Rudin Family Makes 73,000-SF Connection with Interconnection Services Giant Telx
---
---
The data center and interconnection services provider Telx has formed a mutually beneficial partnership with the Rudin family at Rudin Management's 32 Avenue of the Americas.
The tenant signed a 20-year, 45,000-square-foot lease for the Tribeca building's entire 10th floor. The lease will also lead to Telx exclusively managing and operating 28,000 square feet in the building's 24th-floor HUB, a "meet me" room that Executive Vice President and Chief Operating Officer John J. Gilbert described as a "stock exchange for machines and services."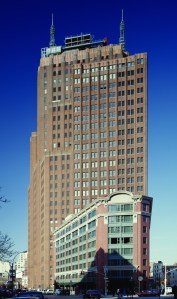 Late last month, Samantha Rudin represented the Drama League Theater Center in its 4,000-square-foot-lease at the 1.2-million-square-foot tower. Commenting on the still-eclectic tenant roster at the tech beacon, Rudin Management Vice Chairman and Chief Executive William Rudin said  "you have the infrastructure and the creative users that need the infrastructure. There's a limitation vis a vis telecom space because of the infrastructure needed—cooling, generators."
Robert Steinman, vice president at Rudin , represented the landlord in-house. Amanda Bokman and Robert Meyers of CBRE represented the tenant, which already operates two New York data centers. Messrs. Rudin and Gilbert declined to comment on asking rents in the transaction. They did say that 32 A of A is 99 percent leased–major tenants include Dentsu America, with a 183,000-square-foot footprint–and the HUB is "basically full."
Mr. Gilbert likened the HUB to "the spoke of the wheel that is the internet."
As for future tenants at this address and its neighbors, building owners predict an ongoing onslaught of technology firms.
"They continue to grow and expand," Mr. Rudin said. "[Edward] Minksoff['s 101 Avenue of the Americas] is a couple blocks north and that's attracting a lot of them. Like the city, this area continues to move more toward tech-oriented tenants."