One-on-One with a ConnectNYC Fiber Challenge Winner: Luxury Lingerie Store Journelle
---
---
In December 2012, Mayor Michael Bloomberg launched the ConnectNYC Fiber Challenge, an opportunity for New York businesses to compete for super-speedy fiber broadband connectivity in their workplaces, with installation free of charge. The first round of winners was notified throughout the spring and summer of 2013, and this week, Wired City spoke to one of them: luxury lingerie purveyor Journelle, whose flagship store and offices are located in Union Square.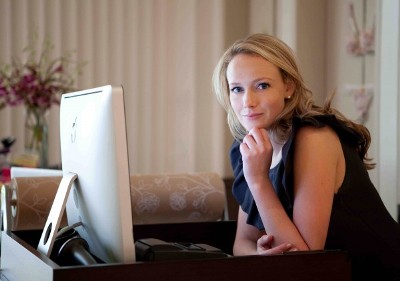 When the challenge launched last winter, the Journelle team knew it had to spring into action.
"As a start-up, we have faced our fair share of challenges … But [none] have been as frustrating and debilitating as trying to rectify our terrible Internet connection," they wrote in a submission essay.
"We applied for the fiber challenge to increase productivity in our office and increase efficiency in our stores," said Journelle executive assistant Jaimie Crupi, "The less down-time we have, the better we can serve our customers and focus on what is really important.
Journelle's flagship store stands on East 17th Street between Broadway and Fifth Avenue, an area where the buildings date back as far as the 19th century. (Something tells us the original architects didn't necessarily have broadband connectivity in mind when they built them.)
"We love our Union Square roots, but the technology here is ancient—and our connectivity really suffers," Ms. Crupi said, "We are always online—our POS [point of sale] system, email, CRM [customer relationship management], T1 phones—they all need a fast and stable data connection to keep going."
Journelle was notified it had won in June. An official construction date to install the fiber has not been set, though Ms. Crupi knows for certain that it'll involve tearing up the 17th Street sidewalk. Still, she maintains that it's worth the trouble, if it means moving up from the company's current 15/2 high-speed Internet connection. "Let's just say we are really looking forward to switching to fiber," she said.
Journelle was founded in 2007 by CEO Claire Chambers. With three locations in New York City—plus a growing e-commerce business—the store carries high-end lingerie from top designers. The company describes itself as "the premier lingerie store for the modern woman."
"We could not be more excited," Ms. Crupi said of getting the fiber connection. "Having a secure and reliable data connection is essential in taking Journelle to new heights! [We're] building our panty empire one day at a time." —Jordyn Taylor