NY Daily News Sides with REBNY on Landmarking Debate
---
---
The New York Daily News is piggybacking off a report and subsequent denunciation of the city's landmarking process issued by the Real Estate Board of New York earlier this month.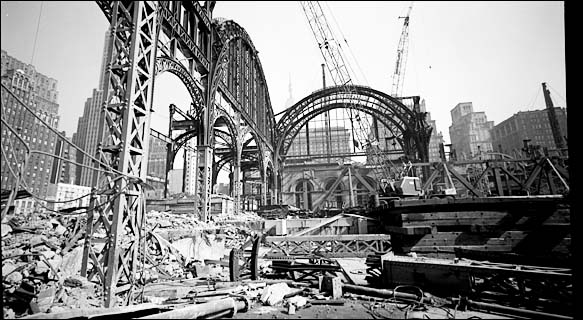 The Landmarks Preservation Commission was established for a "noble purpose" following the demolition of the old Penn Station, but some "landmarks" are so "unworthy of protection" that they now give the designation a bad name, according to an editorial published by the News this morning.
"There is a difference between, on the one hand, the Waldorf Astoria Hotel and the New York Public Library, and on the other, a lower Manhattan gas station included in a historic neighborhood designation," the article states.
Earlier this year REBNY noted that excessive landmarking will restrain job creation, constrict development and increase the city's cost of living, as reported in The Commercial Observer.
The REBNY report found that 11,857 properties – nearly 27.7 percent – of Manhattan properties are now protected by regulations governing landmarks, and that in some neighborhoods, such as the Upper West Side and Soho, the level has reached 70 percent.
A "broad brush" approach to landmarking in historic districts has resulted in the inclusion of properties with no historic or architectural significance, inflating pricing and forcing owners to spend time and money in order to comply with regulations, REBNY argued.
The report also stated that 93 percent of all landmarked properties in Manhattan are located in historic districts, an indication of "how this broad brush approach to landmark designation undermines the landmark process;" and that 48 vacant lots and 50 parking lots representing approximately 2.6 million square feet of development potential are on landmarked properties in Manhattan.
"The commission has ably protected the best of the city's past," the Daily News stated. "Now, it must consider whether it is lacing a suffocating girdle around the future."