Muscle Maker Grill, Made Homeless by Sandy, Signs New Chelsea Lease
---
---
A healthy food chain dealt a mortal blow by Superstorm Sandy will reopen near its original location, The Commercial Observer has learned.
Muscle Maker Grill signed a 10-year, 1,000-square-foot lease at 114 Seventh Avenue nearly nine months after Sandy memorably led to the collapse of its former home's facade at 92 Eighth Avenue.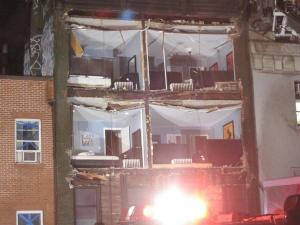 The chain, with 200 locations nationwide, has been on the hunt for a new address ever since its prior building fell apart.
"They had proven success in the Chelsea market, so naturally they wanted to stay in the area during the relocation search," said Jonathan Banayan, the Winick Realty Group broker who represented the tenant. Mr. Banayan would not comment on the specific asking rent in the transaction, but did say that the local market typically fetches retail rents around $180 per square foot.
Muscle Maker Grill will open on Seventh Avenue between 16th and 17th Streets. "It's a desirable address because if you look at the mix on this particular corridor of Seventh Avenue between 14th and 23rd Streets you'll find Cafeteria and Legends [a Sichuan restaurant and bar], but nothing strictly serving health food," he said. "There's an unmet desire for affordable health food that tastes good at the same time."
Mr. Banayan recently brought a greasier eatery, Big Smoke Burger, to 70 Seventh Avenue in Chelsea.
The landlord, Duell Management, was represented in-house.