Grand Central Availability Rate Highest Among Midtown Markets
---
---
Through the first six months of 2013, the Grand Central availability rate stood at 15 percent—the highest of all the Midtown submarkets. Thankfully, it does not take the prize for the highest availability rate in Manhattan, as that honor goes to the World Trade Center submarket, but I will save that topic for another week.
Grand Central availability actually started the year at 13.8 percent, but it ballooned to 15 percent with the addition of six big blocks of space over 100,000 square feet at 330 and 335 Madison Avenue, 666, 711 and 730 Third Avenue, and 150 East 42nd Street. The Grand Central submarket has New York's most highly trafficked transportation hub right in the center of the submarket, so why are there still 7.3 million square feet of available space surrounding it?
As a commuter from Staten Island, this is tough for me to fathom. Since working in Manhattan in 1999, I have worked on all major Midtown avenues, but my current location on Park Avenue and 47th Street, mere steps from Grand Central, has made for the best commute of my career. On the other hand, one reason tenants seem to be avoiding this submarket could be the fact that 87.2 percent of the building inventory was constructed prior to 1975. These older buildings typically have low floor-to-ceiling heights, making the inventory less efficient for TAMI-type tenants. The city is aware of this potential challenge for the area and has proposed the East Midtown Rezoning plan to alleviate this issue. The rezoning would allow for more conversions of older product and development opportunities for new product.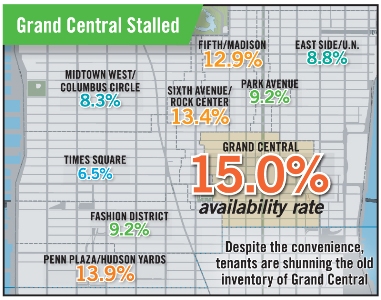 Older buildings aside, I see an opportunity for Grand Central over the next 12 months, as average asking rents for Class A and B space are still 16 percent below historical highs. With Midtown South tightening further, expect to see tenants migrate north to Grand Central, where asking rents for Class A (3.5 percent) and Class B (14.8 percent) properties are significantly lower.